Visual material is vital to making you stand out from others. High quality graphic design can make or break a business, and Infolob is here to provide you with the quality you need.
GRAPHIC DESIGN AT A GLANCE
Graphic design focuses on visual communication. Symbols, images, and text are combined in a visually appealing way to convey meaning as opposed to solely text, which is often considered dry and uninteresting. 
Design programs (such as Sketch, Adobe Illustrator, InDesign, and Photoshop) are often used to create content for advertisements, social media posts, editorial design, branding purposes, and illustrations for a wide variety of creations. Graphic design is one of the broadest, most versatile disciplines, and every organization has need for it.  
Infolob offers logo and icon design options, design for social media posts and advertisements, branding options, and graphic development for applications and software.
Our designers can create branding and logos from scratch or take existing content and redesign it to make it more innovative, modern, and eye-popping.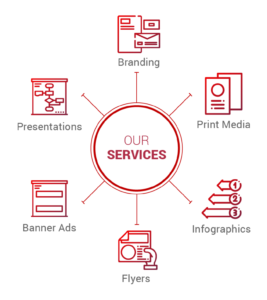 See some stunning examples of Infolob's graphic design process and the visually appealing products that make up the end results.
Want to get some Infolob perspective? Check out our blog!