With the rolling out of MySQL HeatWave Lakehouse service, Oracle is now officially in the data lakehouse domain. The only difference is – it's not the same old lakehouse business anymore. In other words, the unique selling proposition of MySQL HeatWave Lakehouse might surprise you. Stay tuned while we break it down for you.
We have talked plenty about the MySQL HeatWave. It's a managed database-as-a-service (DBaaS) by Oracle, built atop the open-source MySQL database platform. At the core, it features a breakthrough, in-memory query accelerator called the HeatWave that makes it an extremely effective choice for not just OLTP but also OLAP use cases. And now, with MySQL HeatWave Lakehouse service, it's time for the next chapter of the innovation.
Differentiator #1 – Query's Extended Scope
Until now, like any other relational database, MySQL HeatWave only allowed for querying data residing in the database. The MySQL Heatwave Lakehouse breaks that conventional barrier, granting the database to query data residing in cloud object storage, generally known as a data lake. The idea of a data lakehouse targets closing the divide between conventional databases and data warehouse capabilities, which needs every piece of data to be indexed and residing natively with the intuitiveness and affordability of a cloud data lake. MySQL HeatWave Lakehouse service goes even beyond.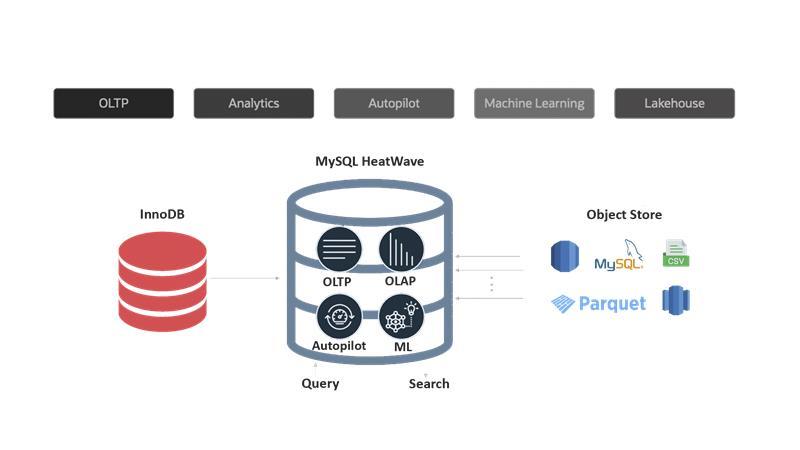 Differentiator #2 – Top of the Board Performance
Oracle's MySQL HeatWave Lakehouse sets a new industry benchmark by enabling customers to query data stored in object storage with the same lightning-fast speed as querying data within the database itself. This groundbreaking capability is made possible by MySQL Autopilot, a unique machine learning-powered automation feature that optimizes query execution plans for unmatched performance. By seamlessly integrating data from object storage with database data, users gain valuable real-time insights without sacrificing query speed.
Differentiator #3 – File Format Support Versatility
MySQL HeatWave Lakehouse supports a diverse range of object store file formats, inclusive of Parquet, CSV, and database exports. This flexibility allows users to work effortlessly with their diverse external data, simplifying the integration and analysis of critical information. Whether it's transactional data from the MySQL database or varied external data, MySQL HeatWave Lakehouse enables users to combine them conveniently in the same query.
Differentiator #4 – Lightning-Fast Data Loading
The performance to load data from the object store is unparalleled with MySQL HeatWave Lakehouse. Demonstrated by a 500 TB TPC-H benchmark, it is up to 9X faster than Amazon Redshift, 2X faster than Snowflake, 6X faster than Databricks, and 8X faster than Google BigQuery. This remarkable speed ensures rapid data ingestion, providing users with near real-time access to their critical information.
Differentiator #5 – Comprehensive in Philosophy and Action
As a core part of Oracle's distributed cloud strategy, MySQL HeatWave Lakehouse stands as the only cloud service that offers an all-in-one solution, combining transaction processing, real-time analytics, ML, data lake querying, and ML-led autonomy inside one MySQL database service. This comprehensive approach simplifies data management and empowers users to handle diverse workloads and analytical tasks effortlessly.
In a nutshell, MySQL HeatWave Lakehouse service paves the way for businesses to unprecedentedly capture valuable insights, make data-driven decisions, and maximize their productivity. As an integral part of Oracle's distributed cloud strategy, MySQL HeatWave Lakehouse ensures users can harness the full potential of their data across various cloud platforms and data centers.