Infolob Oracle Cloud Managed Services – Maximum Accountability at Reduced OPEX
Return on your cloud investment hinges substantially on how well you manage it, which makes it an expert job. Infolob's multiple OCI Expertise validate our competencies to enable organizations optimally utilize their Oracle Cloud Infrastructure investment in terms of costs, security, performance, scalability, and agility. Our services span across all multi-cloud and hybrid cloud environments.
Talk to Our CMS Experts Today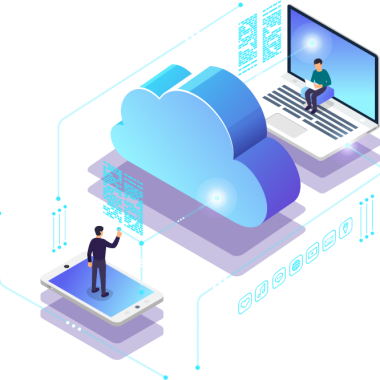 Cloud revolution of any organization involves three principal stages: strategizing, migrating, and managing. Infolob's Cloud Strategy Assessment and Cloud Migration Services are carefully created first two stages of our streamlined cloud enablement practice for all big and small private enterprises and public offices. Finally, we make our cloud services end-to-end with our Cloud Managed Services as explained below.
What are Cloud Managed Services?
Cloud managed services are the outsourcing of the management of your cloud resources or components to an external team of seasoned and certified cloud professionals who undertake the responsibility of:
Monitoring of asset functioning
Proactive problem remediation
Assurance of absolute security
Performance & cost management
Regulatory compliance adherence
Depending on the project type, some of the other aspects of cloud managed services can be automation recommendations and implementation, workforce training, and change management.
Typically, a cloud managed services provider studies the existing on-premises, multi-cloud, or hybrid IT infrastructure along with the ongoing managed services scenario to make recommendations on how it can serve as a single point of contact or interface of all cloud related queries or escalations for the customer. The provider also delivers pre-defined reports at regular intervals and in the desired format that is approved by the customer during the initiation phase.
Infolob Oracle Cloud Managed Services
Infolob Oracle Cloud Management Services are focused on governance, change management, and automation in order to deliver optimum security, performance, availability, and cost. We help businesses save 30% to 50% of operating cost for an in-house cloud management team, setting them free to focus on innovative aspects of your business that directly impact growth. Our time-tested set of cloud managed services leverage industry best practices to help you update and run your IT environments in the cloud optimally.
Note: Misconfiguration is the primary cause of cloud breaches, besides leading to over expense and compliance failures. Infolob identifies security as a major concern for our cloud aspiring customers and we address cloud security management issues with Cloud Security Posture Management (CSPM) tools, which facilitate the functionality to strengthen security adequately. We recommend Oracle Cloud Guard as a part of our cloud managed services as it strongly matches several cloud security analysts' recommended functionality for CSPM within the Oracle Cloud Infrastructure. Furthermore, we offer OCI Cloud Patrol Solution to consolidate review of tenancy components and facilitate thorough audits.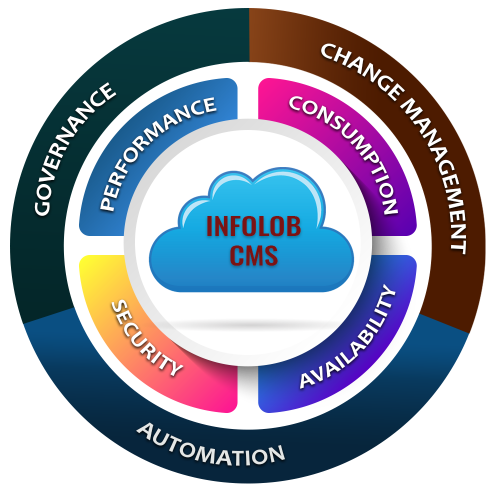 Governance
Change Management
Automation
Performance
Security
Consumption
Governance
Our Cloud Governance Services ensure that our customers are abiding by all regulatory compliances mandated within their country/region of operations, guidelines of their industry, and their internal policies to manage cloud operations. Right at the outset, our experts work with you to define OCI guidelines of compliance, usage, and procurement as well as configure management database. Essentially, Infolob cloud governance service segment enables efficient control of additional OCI resource purchasing process, compliance adherence, security control, and process standardization.
Change Management
Automation
Performance
Security
Consumption
Typical Cloud Managed Services Deliverables
In addition to the aforementioned undertakings, Infolob Enterprise Cloud Managed Services include reporting of operations on a scheduled basis (weekly, monthly, and on-demand). These reports are prepared for a brief attention of the CIOs, CTOs, and other leadership teams to gauge the incoming returns of your cloud investment.
Security report weekly & monthly
Performance report weekly
Cost management report weekly
Compute analysis on-demand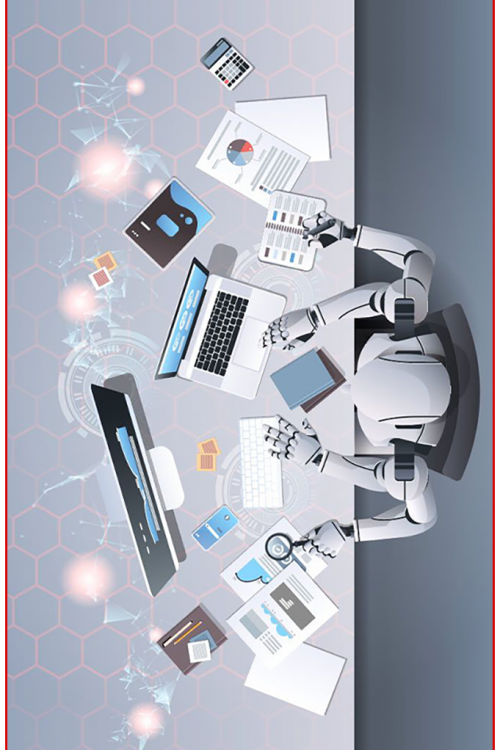 LET'S DISCUSS YOUR CLOUD QUERY