Refactor, Re-Platform, or Re-Architect
Your Reliable Apps Smartly & Effortlessly
Application modernization by leveraging the latest options of platform as a service such as microservices, serverless, and containers deliver substantial dividends — if done correctly. INFOLOB helps global enterprises spark new lease of life into their beloved apps with its all-inclusive, expert, and express platform re-engineering services.
Speak with INFOLOB Apps & PaaS Experts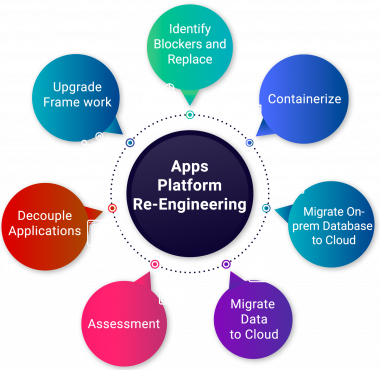 Muddling through legacy applications hampers productivity and obstructs maintenance, scaling, and more. Sooner or later, organizational technology leadership must decide on leveraging modern Platform as a Service (PaaS) options available in order to refactoring or re-architect their aged apps. INFOLOB's PaaS is built on top of the latest technology stacks. 
We equip our customers with the latest tools and services to ensure that their legacy applications are modernized, efficient, and scalable. We also provide round-the-clock support, so you can be sure that your applications are always running smoothly.
INFOLOB encourages and assists enterprise IT leaders to opt for cloud-based platforms that are secure, one-click scalable, and easy to manage; and provides a stable alternative to the inefficient "you build it, you run it" model for teams building large-scale distributed applications in the cloud. It also allows you to focus on your core business operations while we take care of the underlying infrastructure and platform management.
As a thumb rule, our team of experts will work closely with your team to understand your business requirements and the technical challenges you face with your legacy applications. We will then develop a custom plan to refactor and re-architect your applications within our PaaS.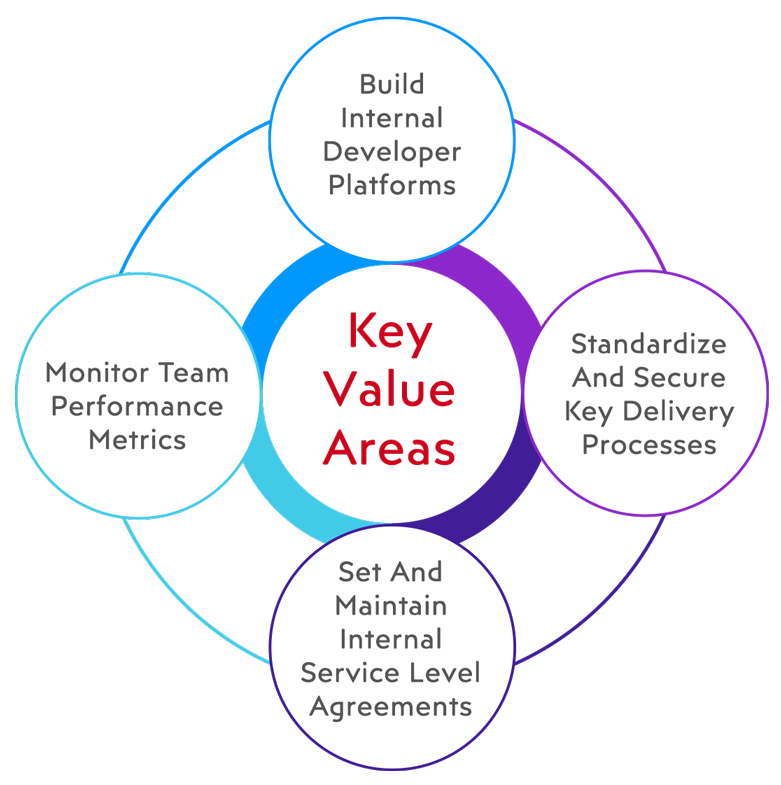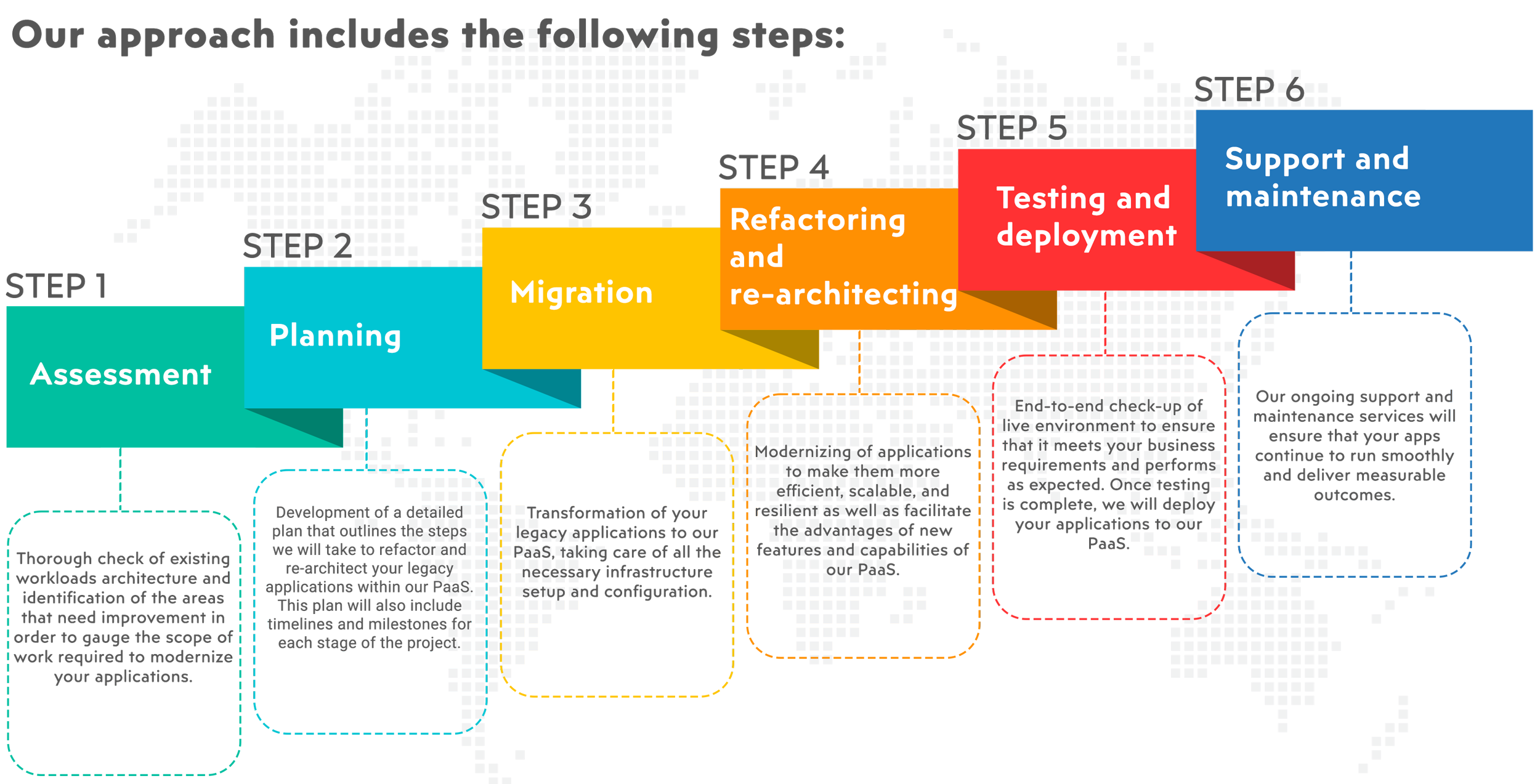 Click on image to enlarge it
Change Management Services
The need for change management arises from many factors such as mergers and acquisitions, adoption of new technologies, organizational restructuring, and regulatory mandates. INFOLOB technology practitioners acknowledge the criticality of combining change management with practical business strategy, and therefore, our focus is on analytics and insights to drive sustainable change. Our change management services utilize an array of innovative tools and resources to meet the needs of every client's unique situation. Some of our other value propositions are: specialized expertise with industry best practices, objectivity to identify blind spots or biases, efficiency to save time and resources, continual stakeholder engagement, immaculate risk management, and sustainable change. Here is how we do it:

Click on image to enlarge it
Move Apps from Monolithic Architecture to Microservices, Seamlessly
Among the most common undertakings of enterprise IT leaders these days is to shift their applications to a microservices architecture. This upgrade facilitates individual component scaling, imparts agility to quickly develop and deploy new features without changing the entire app, makes their architecture resilient and fault-tolerant, includes technology diversity, helps in-house teams to work autonomously, and supports cloud-readiness.
The struggle that enterprise leadership oftentimes face is that while microservices-based architecture offers numerous benefits — it can lead to a chaotic situation if not implemented correctly, and thereby resulting in additional costs related to development, testing, deployment and cloud services. INFOLOB's Microservices consultancy services are battle hardened with numerous deliveries over the years and involves our own set of best practices that ensure seamless adoption. Following is a snapshot of our typical methodology: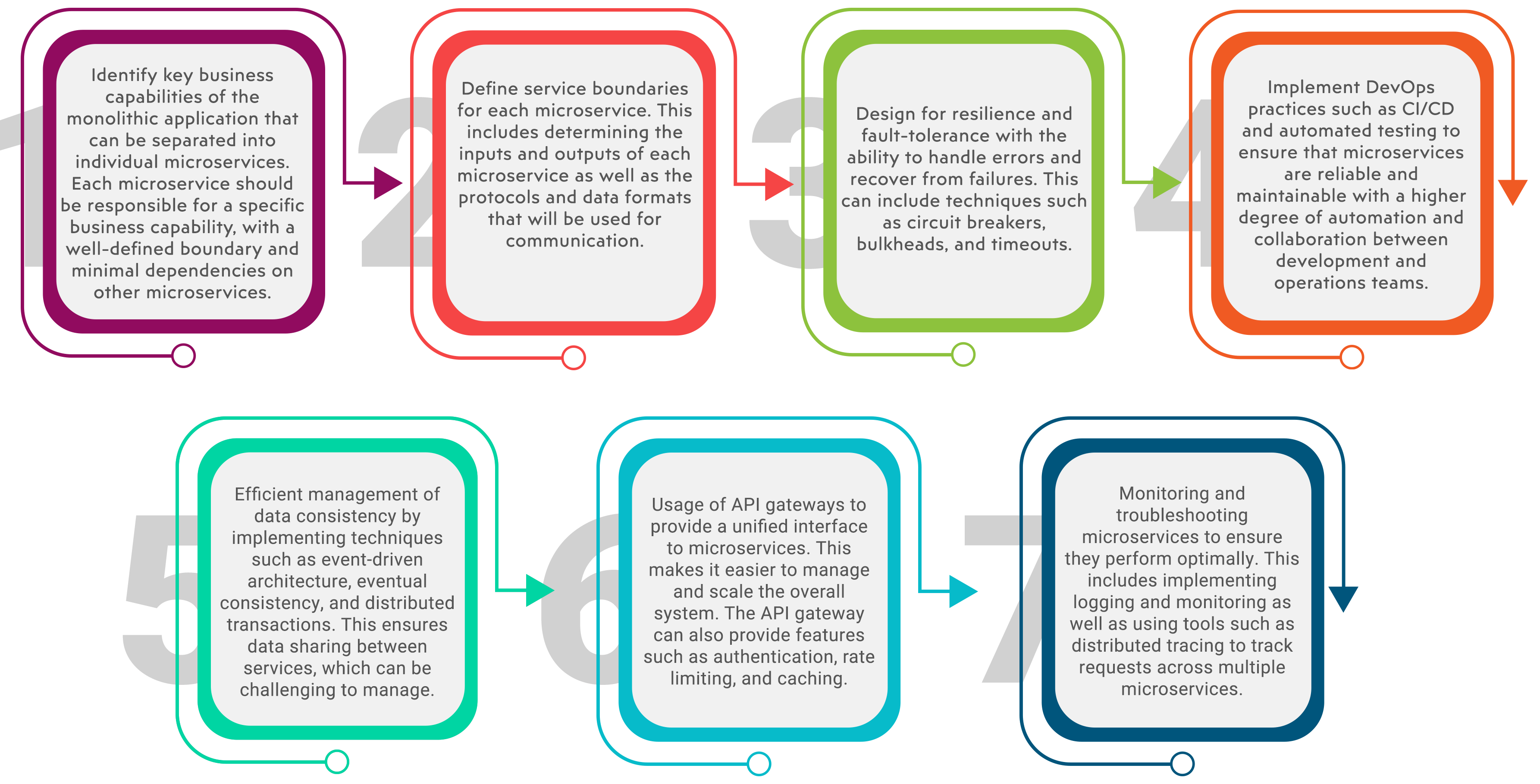 Click on image to enlarge it
Adopt Serverless Architecture and Auto-Scale On-Demand
Managing servers 24x7x365 is cost-intensive and involves security vulnerability. On the other hand, serverless architectures offer several benefits including reduced operational overhead, cost savings via paying only for the resources you use, auto-scaling depending on peak periods, faster time-to-market, high availability, and integration with multiple cloud services. INFOLOB Serverless Services provide reference architectures, automated provisioning, and DevSecOps pipelines for common serverless use cases. Our serverless architecture enablement services involve following steps: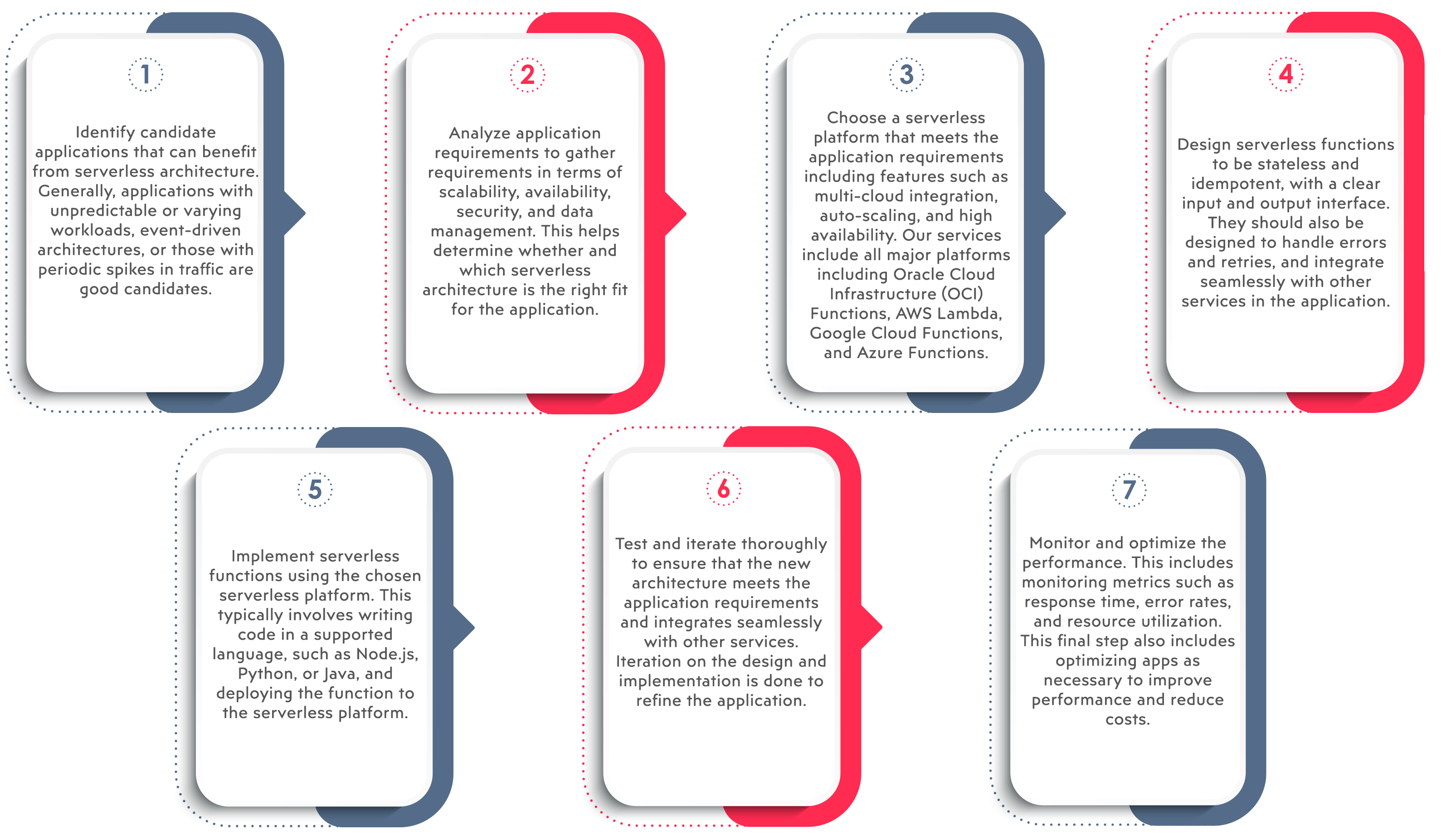 Click on image to enlarge it
Containerize to Use Compute Resources Efficiently
By choosing our containerization services, businesses can gain several measurable outcomes including reduced IT infrastructure costs by improving resource utilization and reducing the need for dedicated hardware, improved agility in order to respond to changes in user traffic or workload by easily scaling up or down their containerized applications, strengthened security posture by isolating applications in self-contained environments that are harder to compromise, and optimized resource utilization by running multiple applications on a single host. Explore more in INFOLOB OKE Services.
While Docker is a popular containerization technology that provides container runtime engines and container registries, Kubernetes is an open-source container orchestration platform that provides advanced container management capabilities. INFOLOB's containerization services cut across both as well as utilizes containerization toolchains such as include Docker Compose, Kubernetes, and Prometheus. The following summarizes our methodology: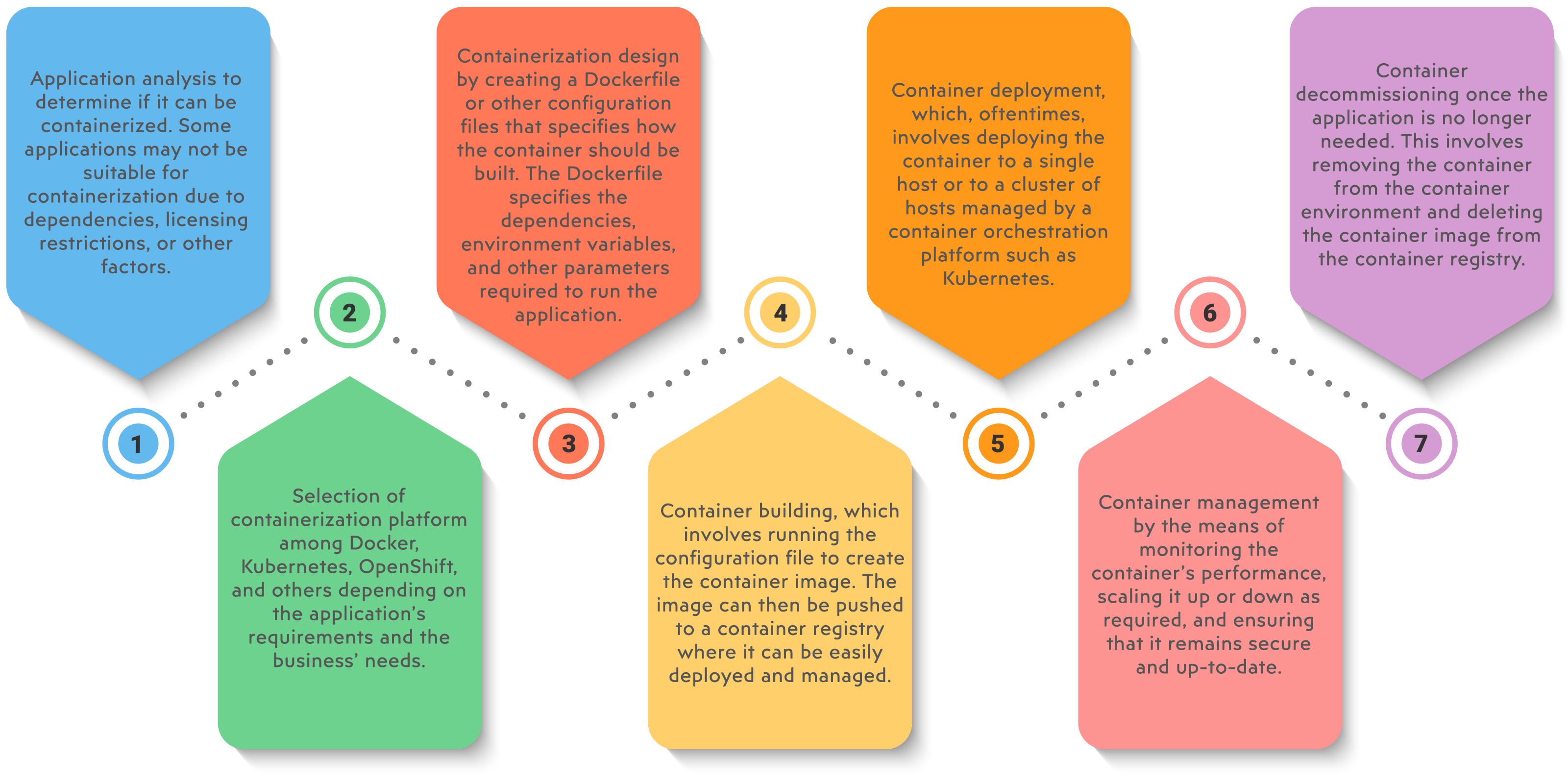 Click on image to enlarge it
ENGAGE INFOLOB'S APPS & PAAS EXPERTS