In the quest of revolutionizing talent acquisition – Taleo has simply been a warhorse. It continues to help employers discover the right candidates while transcending through multiple channels and configurations for specific hiring needs. However, the next generation and cloud-native choice is Oracle Recruiting Cloud (ORC), which is part of the integrated Oracle HCM platform.
While serving Taleo to Oracle Recruiting Cloud migration services to our clients, my team at Infolob has run many proofs of concepts that establish ORC as an innovative, comprehensive, efficient, secure option, and seamlessly integrated option. We have also identified some other primary triggers of Taleo to ORC migration among the enterprise customers we have engaged with: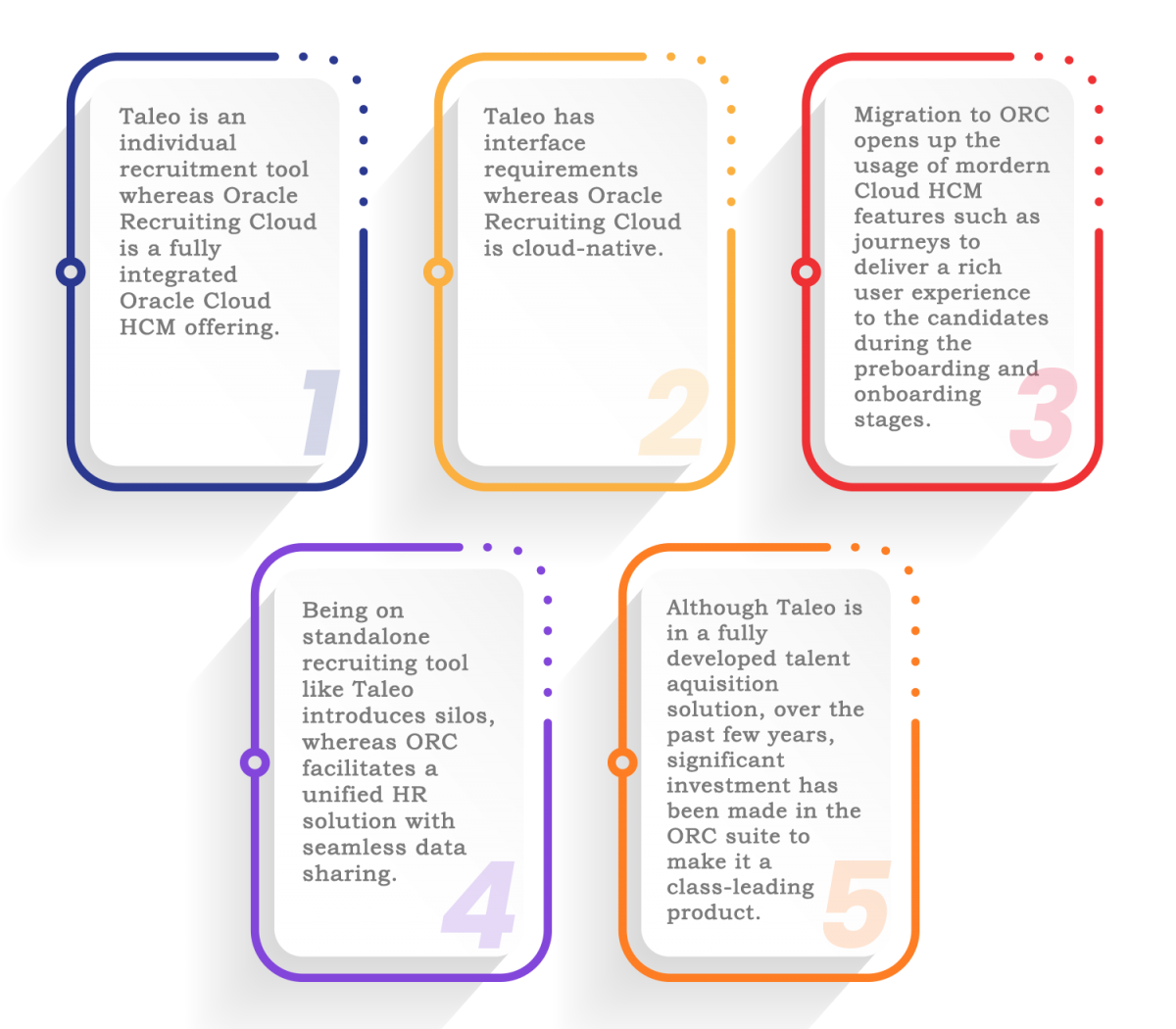 Oracle Recruiting Cloud is the next-level recruiting module that replaces Taleo and comes pre-integrated with Oracle Cloud HCM. Available from release 18B in Oracle Cloud HCM – it is ready to set the benchmark for an all-inclusive HCM experience built for the future. And although countless customers are currently leveraging Taleo—aka "Oracle Talent Acquisition Cloud" or "OTAC"—should make the transition to ORC right off – it is always advisable to do all the 'due diligence', marked by determining the right time to make the move while considering all the pros and cons of the new generation of talent acquisition capabilities in Oracle Cloud HCM.
Hence, let us dive right in!
Advantages of Oracle Recruiting Cloud (majority inherited from Taleo)
Oracle Recruiting Cloud further adds sourcing of improved quality candidates, expediting time-to-hire, and minimizing the cost of recruiting by helping you:
→ Build bespoke candidate experiences for varied employment types with customized career sites, integrated recruitment marketing, and intelligent digital assistants
→ Retain recruiting productivity on the go with bias-free candidate suggestions, predictive future hiring outcomes, automation-streamlined job creation, workflow completion, interview scheduling, etc.
→ Sync recruiting with the rest of your human capital management ecosystem to comprehend workforce skills, shepherd internal mobility, and deliver seamless hiring experiences minus integration pains
Transitioning to Oracle Recruiting Cloud: Considerations
Oracle has already cleared the air around the release of Oracle Recruiting Cloud, which is not to mark Taleo's farewell. In other words, Taleo remains accessible as a standalone tool with complete support from Oracle. This translates to the fact that the time for migrating from Taleo to Oracle Recruiting Cloud can fully be dependent on your will to adopt the advancement. Now it is time for the key considerations that must be made beforehand undertaking a transition from Taleo to Oracle Recruiting Cloud.
Identify and evaluate the match between your existing processes and ORC's capabilities, e.g., take up on-the-ground use cases, such as sending online job offers or for a candidate's confirmation upon applying for a position
Answer this: Do you have all the required plans/resources in place for change management that is set to entail?
And what are your plans on the conversion of candidate information from Taleo to ORC, which will be indispensable if you are wishing to fully capitalize on the capabilities of Oracle Recruiting Cloud
The easiest way to address all these 'open ends' is by consulting a certified Oracle partner. Choose Infolob if you are also looking for a multi-award-winning one with countless testimonies weighing in from across diverse industries, globally.

For Infolob, the advantages of Oracle Recruiting Cloud with candidate journey, perfect integration to parent solution Oracle Cloud HCM, and mobile-enabled accessibility outweigh the downsides (first things to be addressed in the upcoming updates) by a mile. Starting at the earliest release, Infolob is also confident that Oracle Recruiting Cloud in Oracle Cloud HCM can significantly support businesses of all sizes in their day-to-day core and peripheral talent acquisition goals. For more information, feel free to explore: Infolob.com. And for immediate assistance, please write to us at: Info@infolob.com