For existing Oracle customers, it is important to evaluate whether they are extracting the maximum from their Exadata investment before contemplating cloud migration. Invariably, there are opportunities to increase database performance and consolidate environments that are impacting asset management, licensing, and performance of the connected Oracle applications.
For non-Oracle customers who are browsing options for a successful cloud migration as well as save on existing on-premise computing infrastructure, Oracle Exadata Gen 2 Cloud@Customer is a hybrid cloud option that brings cloud benefits behind your firewall for the strongest data security possible. Cloud@Customer is custom built for organizations who desire cloud benefits but wish to refrain from placing their production environments in the public cloud.
On October 1, 2020, Infolob's Managing Director and Oracle Engineered Systems' thought leader, Tim Fox, presented the following webinar that covered:
How to extract maximum value from existing Exadata investment
Factors that make Oracle Cloud@Customer an ideal product for data-security concerns
Oracle Public Cloud Appliances for heterogeneous and non-Oracle workloads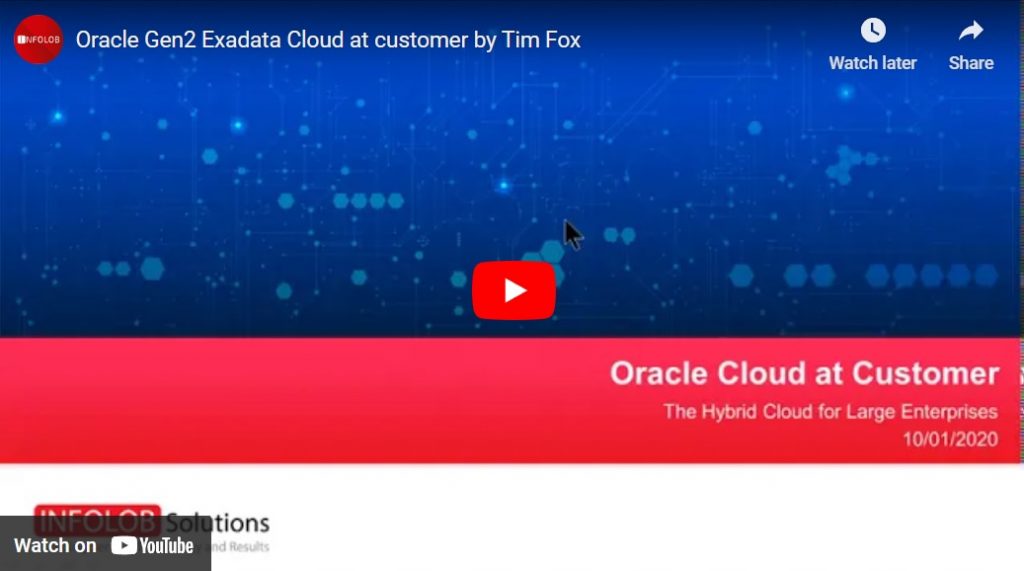 Additionally, here is another video of Tim revealing the best practices to maximize ROI on Oracle Exadata investment.
Need more information? Engage@Infolob.com