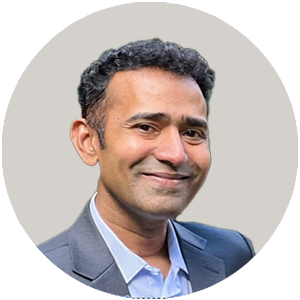 Mahendra Padmaraju is an accomplished IT veteran with over two decades of exposure enabling businesses to proliferate to the public cloud with IaaS, PaaS, and SaaS delivery/management models. He has served in a multiplicity of roles, including Advisor, Director, and Architect – in all of which, Mahendra demonstrated his profound understanding of the technical and business realms of the information sector while consistently shepherding revenue growth. Mahendra alma matered the Motilal Nehru National Institute of Technology (MNNIT), Allahabad, India – for a Master of Technology degree in Computer Science, and the Henry W. Bloch School of Management, University of Missouri, Kansas City, USA – for an MBA in Finance, M&A, and IT.
Prior to joining INFOLOB Global Inc, Mahendra associated with Data Intensity, Standard Aero, Fujitsu Consulting, and Oracle Consulting helping growth-advocating businesses with cloud readiness and shifting a variety of on-premises workloads to the cloud, and Cloud@Customer – paired with Engineered Systems, Oracle EBS, and Cloud Fusion ERP including their implementations, upgrades, migrations, and functional support. Mahendra is also well-versed in the multicloud combining OCI, AWS, Azure, and GCP across their database platforms, data analytics platforms, digital transformation, and integration frameworks where the companies can take advantage of his advisory and leadership competencies to harness the status quo for unprecedented growth.
At INFOLOB, Mahendra Padmaraju serves as a Senior Vice President, Solution Engineering. He is primarily responsible for leading the company's solution engineering, strategy, and execution. And, he is a precious member of INFOLOB's Executive Leadership Team.