Oracle Alloy helps Independent Software Vendors (ISVs), tech enablers, and system integrators to leverage Oracle Cloud Infrastructure as a localized and customizable cloud infrastructure that paves a way to:
Transition to multi-cloud future
Create new revenue stream by offering full range of OCI services independently from their own data centers
Smoothen data journey
Infuse agility via application modernization and innovation
Meet data residency, and related regulatory and performance needs
Let us explore in detail what Oracle Alloy is, what is its operating model, and what are the pros and cons of the latest development in the digital transformation narrative across public and private sectors.
Oracle Alloy is a highly-customizable, full-scale cloud infrastructure platform that empowers Oracle Dedicated Region Cloud@Customer user enterprises to turn into a cloud infrastructure provider by injecting independent cloud vendorship into their portfolios and Oracle Cloud into their data centers – atop their IT implementation and management competencies. From the ISVs, telecos, and integrators' perspective, Oracle Alloy is a breakthrough industry-tailored solution that also matches requirements related to branding, experiences, compliance, and more.
In other words, Oracle Partners get to accelerate transformation delivery up to the speed of hyperscalers, extend bespoke solutions branded as their own, and spun outstanding customer experiences. Meanwhile, they architect their Oracle Alloy experience by hosting it independently in their own data centers manifesting full control.
Oracle Alloy further empowers operations by using a single UI Operator Console to control the cloud region's service and business operations. The interface allows for accessibility into customer lifecycle management, embedded subscription, and monitoring capabilities to track, modify capacity, and forecast upcoming resource needs.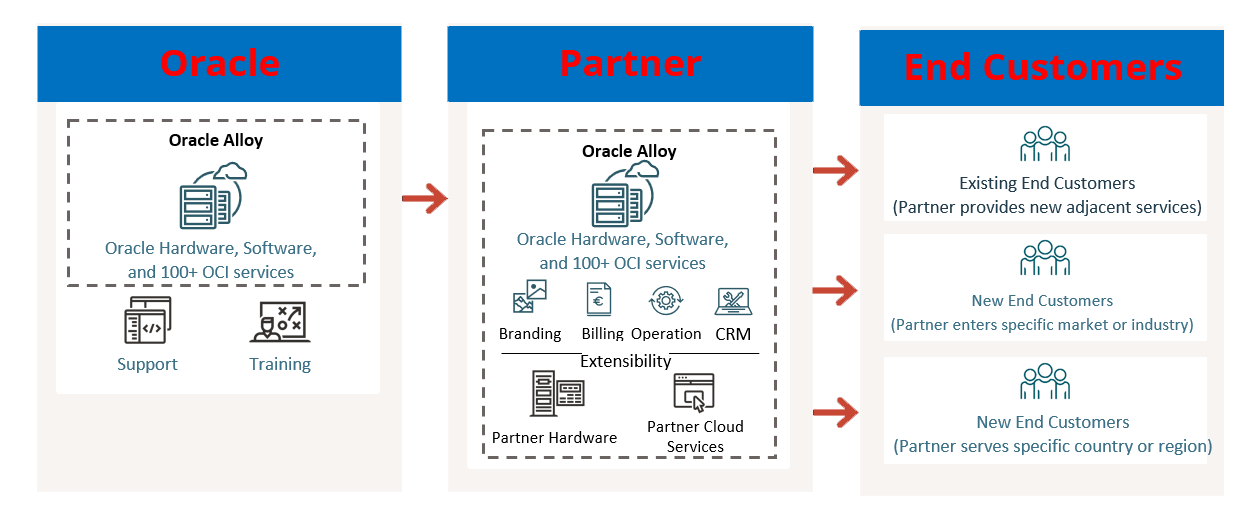 Oracle Alloy Advantages Added to Partner's Portfolio
Oracle Alloy is born to offer cloud innovation set at a whole new level of control and customization. It subsumes the power of Oracle's 100+ infrastructure and platform solutions (already vouched by tens of thousands of global customers) in OCI's public cloud. Consequently, with a pre-integrated infrastructure and software platform delivered to partners' own data center facilities, it enables them to take on new challenges at an unprecedented scale while rendering themselves into a truly end-to-end, self-sufficient business technology enabler.
Here are a few value propositions to zoom in on:
Personalization and packaging: Oracle Alloy empowers the partners to add the newly accessed capabilities into their transformation offerings – featuring absolute control over touchpoints, terms, and customer relationships. Oracle Alloy's customization options transcend skins, notifications, software developer kits (SDKs), and documentation. It makes ISVs or transformation experts align pricing, account types, discount conditions, etc., with standardized attempts and pricing structures. What Oracle Alloy also offers is extensive customer billing and lifecycle management such as invoicing and billing in Oracle Fusion Applications.


Build new experiences and skip reinventing the wheel: Oracle Alloy offers partner systems extensibility by enabling them to build new services on Oracle-built developer, UX, DevOps, and security capabilities underlying every native OCI service. In other words, one gets to introduce their cloud services per the needs of markets/industries whereas customers get reliability and standardization in embedded technology. This includes the bringing in of various hardware appliances, for example, a specific kind of compute or a mainframe into Oracle Alloy, and a new cloud service based on it. Oracle Cloud is designed to shelter an expansive range of underlying hardware.


Global innovation yet street smart: Oracle Alloy is the latest standard in cloud services that not only advocates independent cloud platforms made operational by partners but also addresses global compliance and cybersecurity. It also allows Oracle partners to control processes to club with existing resources or enhance the delivery of the business requirements. For instance, partners can wield their staffing for customer support and operations – together with control patching, rollbacks, and upgrades.
Oracle Alloy's Debut at Oracle CloudWorld 2022
Oracle is helping the world move towards the next generation of distributed and multi-cloud by enabling all cloud service offerings to be governable with the universal set of tools and pricing. But we wish that was all. Hence, following are the key value propositions of the Oracle Alloy announced in the recently held Oracle CloudWorld 2022 by EVP – OCI Clay Magouyrk:
Oracle Alloy stands for complete infrastructure control
Oracle Alloy is another step like Edge and Cloud@Customer – towards greater connectivity with other clouds
Infrastructure is heavily regulated and diversified in its implementations, whereas software platforms feature lesser footprint and regulations dominated by large players. And the complexity around the cloud is because it offers both – critical infrastructure and massive software platform. Oracle Alloy overcomes it by changing the way cloud is delivered and operated
Localized control throughout data's lifespan
Customization of experiences, pricing, and brand
On both idea and operational plain, Oracle Alloy extends the functionality of the cloud to an unprecedented degree
Oracle Alloy enables you to understand your customers and address their problems as they arise
Compliance is also checked off the list of concerns for all parties with Oracle Alloy
With Oracle Alloy, manage businesses, limit spends, set prices, leverage analytics on sales, and do more
Not just the software part, customization is also available at the infrastructure level with plug-in compute, storage, GPUs, etc.
Oracle Alloy is also becoming the epitome of data sovereignty, competitive edge, IP differentiation, robust-than-ever security posture, and access to local operators. Meanwhile multi-cloud is the fast-unfolding future of the cloud, and Oracle fits in right at the top by championing integration, ease-of-use, secured inter-connection of unique cloud services, interoperability, and more.
Oracle Alloy - On the Techno-Functional Plain
Options to reach the depth of front-end experience: The intuitive UI Operator Console of the Oracle Alloy is capable of equipping the partner with management capacity fit to handle both their regional cloud services as well as business operations.


Customer lifecycle management: The same Operator Console is responsible for the operating team to monitor capacity use, order surges, and ordering of diversified infrastructures to catch up with changing business requirements and input capacity forecasts.


In-built and universally applicable Oracle Alloy subscription: It enables Oracle Partners to always contain pricing for end customers, ready the account status, and generate custom rate cards for distinct customer groups. For example, a preconfigured instance of Oracle Fusion Cloud Financials empowers the operating team to handle the customer lifecycle, such as invoicing and billing.


Configuration and tracking: With the priority admin account control and entry privileges, teams can declare the account sign-up action, policy language, and off-the-shelf privileges for their customers; create new accounts and define service limitations. They can also track and improve spending with user-friendly visualizations, chart generation, and business report downloads exhibiting aggregated cost data on the cloud, customer, and service usage.
A Few Key Oracle Alloy Terms
Upon a purchase of Oracle Alloy by a partner – they automatically and effectively become a regional cloud service vendor. The connection/accountability structure is somehow like the following: Oracle continues a direct relationship with the Oracle Alloy partner, and the partner maintains a direct relationship with the final customers.


Oracle partners using Oracle Alloy get to manage the entire customer lifecycle. Cloud subscriptions can be easily sold identically to Oracle Cloud's commercial model / customize pricing and service availability for markets. To ease such complexities, OCI offers tools to supervise cloud service uptime and trace and analyze usage while managing capacity.


To additionally personalize the customer experience and address data regulations, the partner's in-house workforce is the lifeline extending frontline customer support and self-sustained management of operational tasks including basic patching and service updates. However, they may always rely on Oracle teams for service troubleshooting, substandard upgrades, and resolving outages/escalations.