The one-click transition of your infrastructure, platforms, and applications to Oracle Cloud Infrastructure's (OCI) Full Stack Disaster Recovery Service is beyond revolutionary. Firstly, because it means customers signing up for a rapid infusion of industry-dominating disaster recovery (DR) competencies without a CAPEX. And secondly, they get to deploy DR environments without redeploying/redesigning their current systems while erasing the need for expert management or conversion servers.
INFOLOB, as Launch Partner of the OCI FSDR service during the Oracle CloudWorld 2022 event, our experts have evaluated this Oracle offering closely and are well equipped to help our customers adopt it seamlessly. Here is why we recommend it.
9 Major Advantages of the OCI Full Stack Disaster Recovery
Embedded integration with Oracle Cloud stack: OCI Full Stack Disaster Recovery is closely unified with Oracle Cloud Infrastructure services for compute instances and dedicated virtual machine (VM) hosts coupled with block volumes, boot volumes, and file storage to copy storage across primary and standby regions. Full Stack Disaster Recovery is also fully compatible with Oracle Autonomous Database, Oracle Exadata Database Service, and Oracle Base Database Service
One-click DR plan assembly: Oracle Cloud's Full Stack Disaster Recovery harnesses architected-in intelligence to create DR plans for Oracle infrastructure and applications
Automated DR enforcement: All stages in the disaster recovery plan are completely automated, free from any human intervention for the seamless shifting of databases, compute, and applications to a secondary region
Expansive DR plans: Customers can customize DR plans to match diversified business/IT needs. Having extensible disaster recovery allows for the integration of any type of custom enterprise automation, such as OCI Functions, shell scripts, etc.
Application stack readiness prechecks: Full Stack Disaster Recovery conducts over-arching prechecks prior to a DR plan's implementation to guarantee DR operation's success in the standby region
Empowered manageability for all DR topologies: Oracle Cloud Full Stack Disaster Recovery avoids dictating or necessitating customers to abide by a specific DR topology or deployment architecture. Consumers just provision storage, compute, networks, databases, applications, middleware, and allied services in the ways they are already acclimated with
Universally serverless disaster recovery as a service (DRaaS): OCI Full Stack Disaster Recovery avoids the need for any dedicated infrastructure/management servers
Tracking and management of live DR operations: Readily watch DR operations every step of the way via the OCI console. Users can also halt, resume, or rescind a DR operation at any given point in time throughout the process
Rapid deployment via APIs: Promptly build disaster recovery protection groups, DR plans, etc., and deploy resources through APIs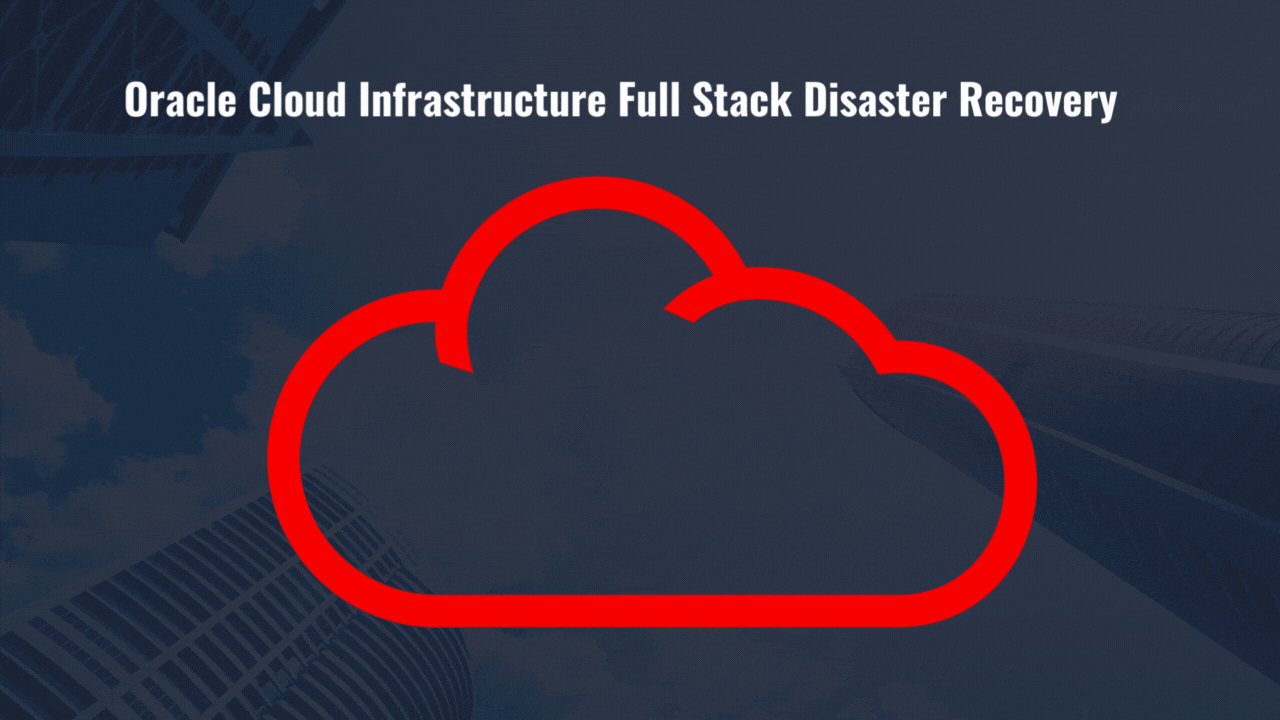 OCI Full Stack Disaster Recovery Service's Business Impacts
Lowered operational cost: Full Stack Disaster Recovery effectively drops operating costs by minimizing the time and labor needed to accomplish DR operations
Boosted reliability: Customers are relieved from reconfiguring or redeploying their in-use application stacks prior to configuring Full Stack Disaster Recovery and is also pretty much capable of configuring DR to meet the diverse SLA needs of every individual business system
Downsized complexity: Oracle Cloud Infrastructure Full Stack Disaster Recovery manages DR for databases, applications, networks, middleware, storage, and compute. It leverages embedded intelligence to wireframe DR plans for Oracle infrastructure and applications
Closing Remarks on Full Stack Disaster Recovery Service
The OCI Full Stack Disaster Recovery Service is built on Oracle's MAA best practices and incremental successes in the high-availability business technology, end-to-end validation, expert suggestions, and customer experience domains. And as expected, the final product has turned out to be a much-needed balance between industry-leading availability, data security, and disaster recovery competencies for Oracle customers at an unprecedentedly lower pricing and complexity.
INFOLOB is the beta Partner for Full Stack Disaster Recovery – lately been in charge of forging 100s of top-end Oracle DR technology acquisitions and related business continuity solutions globally. Reach out to us for queries or end-to-end deliveries at: info@infolob.com