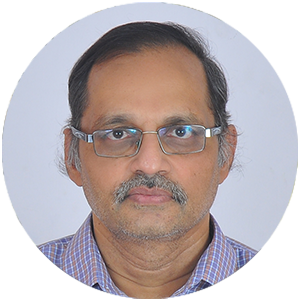 Srinivasakumar Doppalapudi (DSK)
Group Vice President, Digital Business Solutions
Ironcladded with a quarter-century of experience in ERP consulting, P&L management, program governance, project management, identification of new solution areas, managing of large programs/engagements, solution architecture, IT roadmap, and solution design – Srinivasakumar Doppalapudi aka "DSK" is one of the early titans of Oracle technology-led enterprise digital transformation. His profound knowledge of ERP and business processes has enabled innumerable businesses to extensively analyze, design, implement, and tailor business solutions using Oracle Applications.
Prior to assuming responsibilities for INFOLOB's growth across EMEA and APAC emphasizing the digital business applications sphere, DSK held significant positions at some of the largest market shareholders in their respective industries. This includes Senior Vice President's position at ChainSys, Director's position at the renowned KPMG, Solutions Manager's position at Oracle Consulting Service, Senior Manager's role at Genpact, and others.
DSK has led more than 75 Oracle E-Business Suite and over 40 Oracle Fusion SaaS application implementations in diverse capacities. He synchronously manifests tremendous proficiency in Oracle Manufacturing and supply-chain management products. DSK has also spent about a decade acquainting production, planning, plant engineering, and inventory management using groundbreaking management strategies in a renowned FMCG industry. All of which have graced DSK with exceptional communication, analytical, and interpersonal skills. DSK's core strength is his customer-centric approach that subsumes his ability to manage stakeholder expectations in every industry and project he has served, getting him a huge number of customer references and credentials in the Oracle space. Besides, his acumen in the following industries creates all the difference: E&C, Services industry, Aerospace, Industrial Manufacturing, FMCG, Automobile, Chemical, Pharma, Tyre, and Metal industry.