If you're interested in open source technology for graphic design software in general, be sure to read our previous post on some alternatives to Adobe Photoshop, Illustrator, and InDesign.
Here, we'll be focusing on the Adobe products that are used in motion design and video animation and discussing some possible alternatives with open source licenses.
Unfortunately, video animation and design are a little more niche and specialized than mere visual design, so open-source alternatives to the Adobe products are probably not of the same caliber as programs like GIMP and Inkscape. Even so, they're worth getting to know for a couple of reasons. One, for those starting out with video animation and editing, it's a good way to lock down the basics. Two, if you're savvy at development, you can help improve the programs and make them even more accessible.
Let's the go-ahead to the meat of this article, though.
Alternatives for Adobe Audition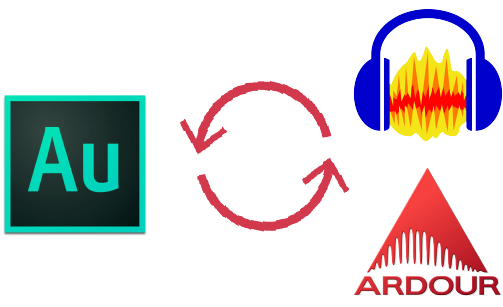 Audition is used for the sound aspect of video design—mixing sound effects, editing audio, etc. It features multitrack recording, smart monitoring, simplified compression, and dozens of other features.
There are a couple of decent alternatives for Audition. The first is Ardour, a cross-platform recorder and digital audio workstation (DAW). Users can plug instruments or mics into the computer and record, or import audio files to work with. It's a pretty versatile solution, although, with a steep learning curve, it's not the best tool for a raw beginner. Download Ardour here and start familiarizing yourself with its interface. Bonus: the website has a community thread where you can check out updates, answer questions, and more.
Audacity is another free and open-source DAW that is extremely popular in schools due to its ease of use. There has been a mixed reception among the community, but for basic audio editing, it'll do the job. Download it here and give it a whirl.
Alternatives for Adobe After Effects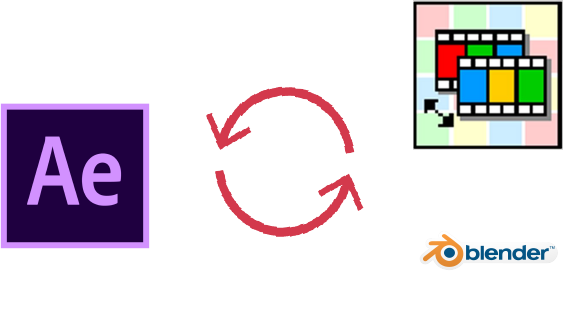 Used for cinematic visual effects and motion, After Effects has the features necessary for making motion graphics and special effects, which is kind of the core of video animation.
Because it offers such specialized processes, we can't compare many open source applications with After Effects. None pack quite the same punch. DebugMode Wax offers some very basic features to create 3D text effects and simple special effects. Wax is a good choice for a beginner or someone who only needs rudimentary features. For downloading Wax and interacting with the community, visit this link.
Another option for 3D modeling and effects is Blender 2, a cross-platform open-source application that boasts an enormous community of followers. Users can use it for animation, modeling, rendering, and more—although it doesn't have all the features that After Effect does. For an open-source tool, though, Blender is very impressive, and the community offers support for questions or problems. Scroll through some of the issues of the Blender magazine to look at samples of work and creation tips, and download the program here.
Alternatives for Adobe Premier Pro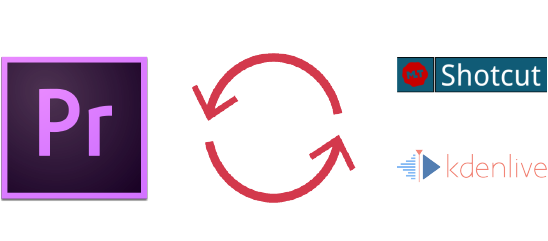 Premiere Pro is a timeline-based video editor that supports hi-res editing, VST audio plugins, and surround sound. It has a plugin-based architecture that lets it work with a multitude of formats.
Kdenlive is the video editor that gets the most love from the public. It has multi-track editing that's timeline based, the ability to customize special effects and transitions, different audio effects, and more. It supports quite a few formats, including QuickTime, AVI, WMV, MPEG, and Flash. For a free editor, Kdenlive is going to give you the best toolset available. Visit its website to download the program and find forums with discussions about the product.
Shotcut is another option for cross-platform video editing, although it's a little less feature-rich. It's more useful for beginners or those who need very basic editing, but it supports hundreds of audio and video formats and has a pretty nice website with tutorials and resources.
Consequently, it's a little more difficult to find alternatives for Adobe's video and audio software that are on par with the licensed versions. But some good open-source software does exist for you to get your foot in the door, especially since video animation is becoming so popular as a medium these days.
Have you used any of these open-source alternatives before? Which one is your favorite?
This article was produced by Carson Collins, Infolob's writer. You can reach him at carson.collins@infolob.com.