Why do organizations delay E-Business Suite upgrade? Because disturbing the existing state of affairs, allocating it a budget, and then training workforce with the new state of affairs make for a corporate ordeal best avoided. Even the most agile CIO and HR leaderships procrastinate about EBS upgrade until the existing state of affairs start to fail.
I must have overseen or participated in more than 80 assignments involving E-Business Suite. One observation that always stays with me is that client's confidence in hired consultants' expertise goes a long way in ending procrastination and triggering the action of upgrade. Benefits? Better performance, new security components, cost-savers, and optimal utilization of resources.
My team of Oracle practitioners at INFOLOB prides itself on a flawless record in supporting our EBS customers. Here is how we do it: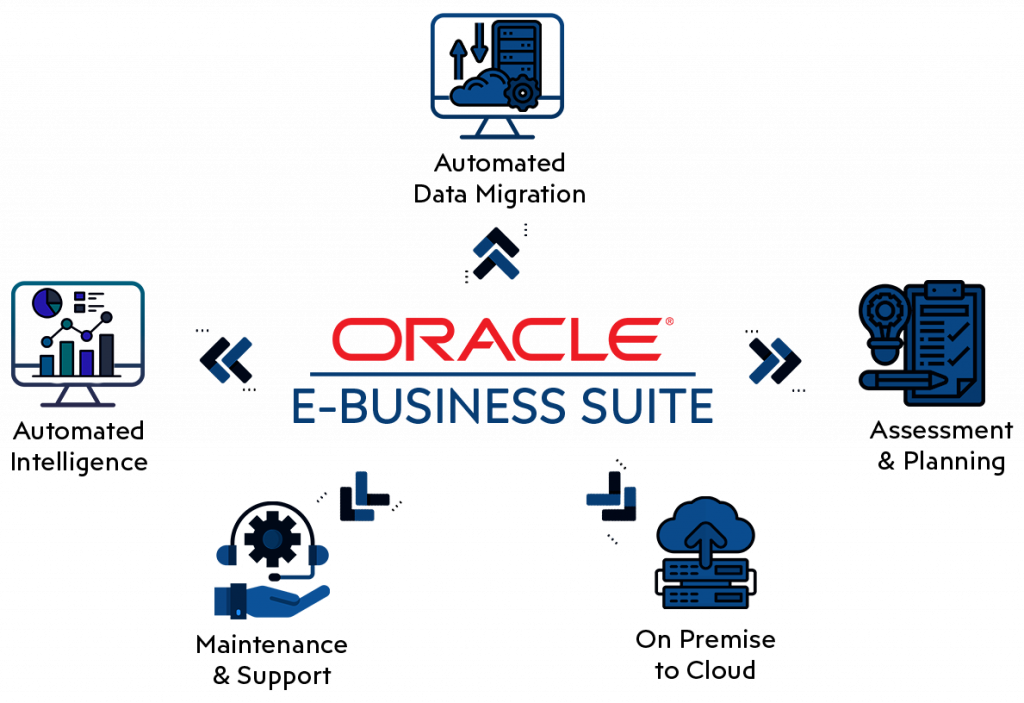 The Technical and Functional Aspects of An EBS Upgrade
To bypass procrastination which is basically a skill-and-will gap, and have a clear-cut roadmap to EBS upgrade, one must have a clear-cut understanding of the processes and the impact involved. The time is to dive right in.
Functional and Business Value of the Upgrade
Oracle EBS R12 introduces numerous new features. With my EBS team at INFOLOB, business users can have access to a concise inventory of the latest features, functionalities, and modifications in R12, categorized by module and track. This information can be found under the change management tab, enabling efficient tracking.
Change Management
Effective change management processes are cardinal in driving user adoption and acceptance, ensuring successful implementation. INFOLOB offers reusable documentation, such as delta training, plans, and test cases categorized by module and type, which serve as valuable resources for developing customized change management plans aligned with the customer's environment.
EBS Upgrade Impact Radius, and Governance
Trying to identify multiple changes in Oracle EBS menus, functions, and responsibilities on your own while struggling with a talent gap can be challenging. My team streamlines this process for you by rapidly identifying changes in SOX procedures via battle-tested tools and methods. Additionally, we identify all alterations specific to the customer's environment spanning two instances, minimizing errors, and expediting post-configuration validation.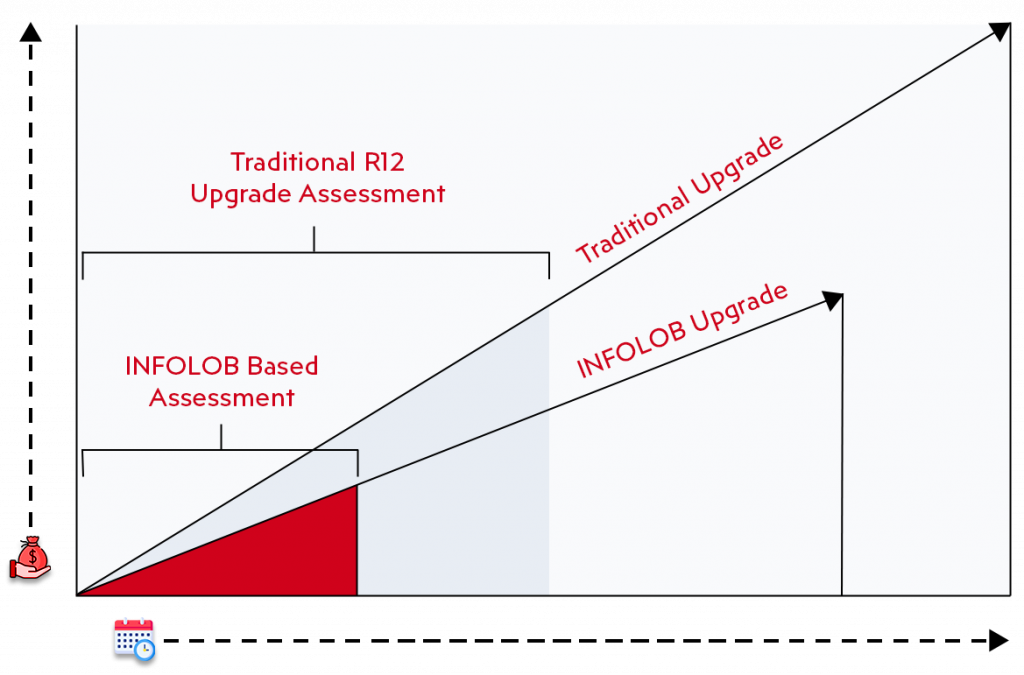 Code Extraction
During the assessment phase, INFOLOB's experts retrieve all custom codes from your EBS environment at the database and operating system level. These codes are then made available for CEMLI (Configuration, Extension, Modification, Localization, and Integration) and environmental impact analysis.
Impact Analysis
Utilizing the code excavated by my team, we import it into the impact analysis phase where we analyze the code in detail. This comprehensive analysis offers a quick overview of impacted objects.
EBS Upgrade Impact Perusal
Our EBS support features reporting that allows for further examination of impacted objects, extending suggested resolutions and diverse analytics on custom objects. This includes object type grouping, tracking, and detailed information, along with environment specifics.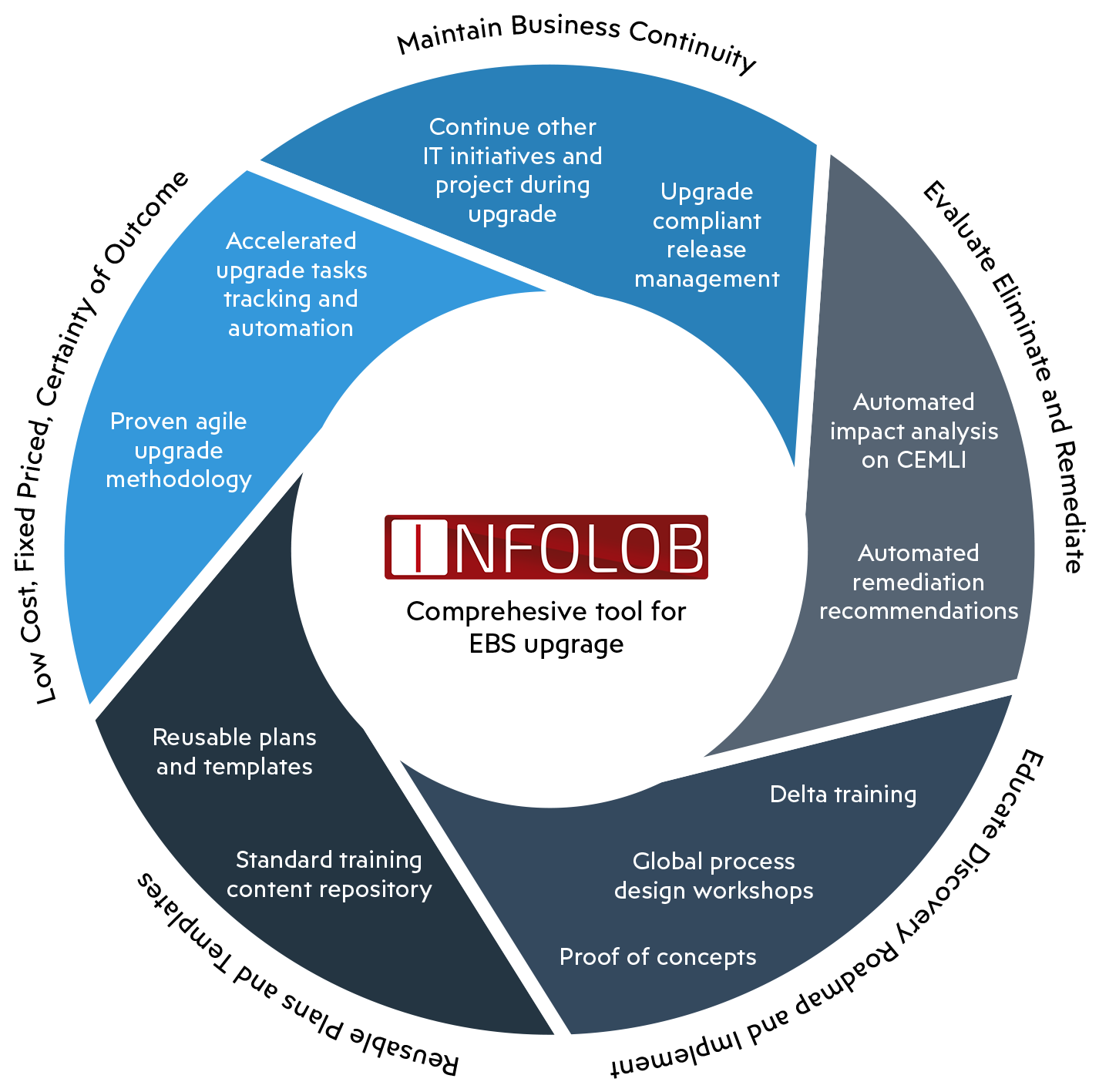 Object Repository
We maintain a library of changes organized by version for all standard objects, categorized by module and track. This repository serves as a reference for developers, facilitating code modifications and accelerating testing.
Automation for Uncharted Productivity
The automation we offer utilizes a collection of reusable, battle-tested automation practices that assists productivity beyond what EBS intends to deliver, thereby, ensuring your organization is always one step ahead of the competitors.