In a recent migration project, INFOLOB recommended and helped an insurance industry customer relocate from AWS RDS MySQL database to OCI MySQL Database Service. The primary objective was to help them aptly support their mission-critical financial transaction processing application.
Switching to Oracle MDS industry-leading database platform meant enhanced performance and scalability – upgrading the customer to handle a massive volume of transactions while scaling their application more effortlessly per growing demands.
Related readings from INFOLOB:
The request came in as a response to customer's financial application experiencing a rapid surge in user activity due to a major market event and subsequent increase in customer activity.
The challenge, therefore, was not only to discharge their heavily strained AWS RDS MySQL database causing slow response, errors, and system downtimes; but also, to do it expeditiously. And, apparently, the customer was already aware that OCI MySQL Database Service can alone sustain the volume, velocity, and criticality of the use case. So INFOLOB got to work.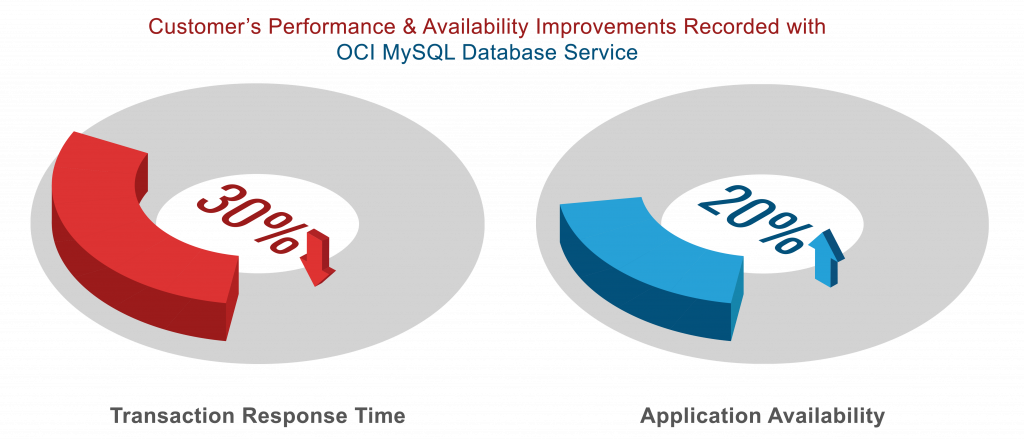 Significant performance gains delivered with OCI MySQL Database Service
Additional compute and storage capacity made pluggable on-the-fly without any downtime or disruption to the application
Built-in high-availability features such as automatic backups, point-in-time recovery, and automatic failover ensured application availability and resilience
More traffic can be handled, scaling is easier, and the risk of downtime or data loss is minimized
Improved business continuity, customer satisfaction, and revenue generation now unfolding per the dictates of business needs
Transaction response times reduced by 30%, leading to faster and more efficient processing of customer data
Application availability improved by 20%, reducing the risk of downtime and financial losses
Improved service led to increased customer satisfaction and loyalty
Cost savings achieved through reduced hardware and infrastructure maintenance
Overall, the migration was a success, positioning the customer for future growth and success.
INFOLOB's High-Level Steps to Stage a Successful Migration to OCI MySQL Database Service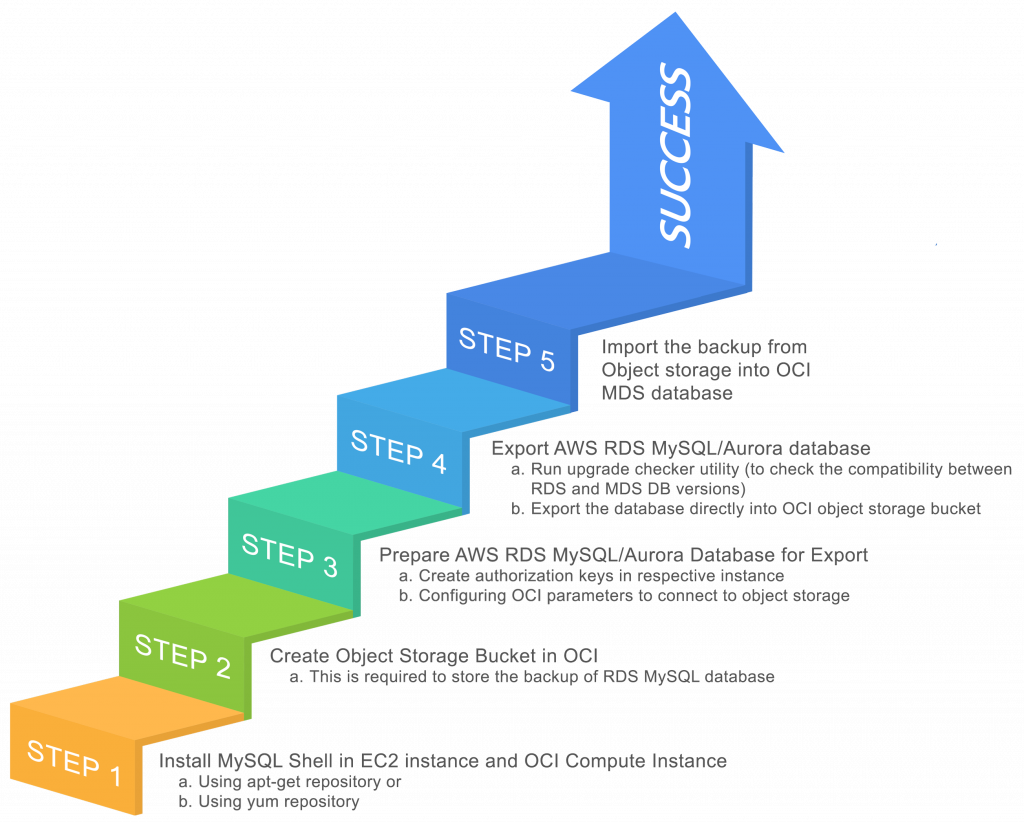 Why INFOLOB Recommends Oracle MySQL Database Service over Amazon RDS for MySQL?
OCI MySQL Database Service and Amazon RDS for MySQL are both cloud-based relational database services that offer MySQL as a database engine. Yet, INFOLOB approves of OCI MySQL Database Service over RDS MySQL Database for the following reasons [1]:
Oracle MySQL Database Service Features Single Database for OLTP, OLAP, and ML
Native, real-time analytics
Single database service for OLTP, OLAP, and ML
Eliminate separate analytics databases and ML services
Eliminate the cost, complexity, and risk of ETL
Oracle MySQL Database Service is Validated to Generate Greater Performance
5400x Faster than Amazon RDS
1400x Faster than Amazon Aurora
5x Faster than Amazon Redshift AQUA
7x Faster than Snowflake
OCI MySQL Database Service Lowers Total Cost of Ownership
2/3 the cost of Amazon RDS
1/2 the cost of Amazon Aurora
1/2 the cost of Amazon Redshift AQUA
1/5 the cost of Snowflake
To sum up, OCI MySQL Database Service provides a more comprehensive and fully managed MySQL database service with industry-leading control, performance, and cost-effectiveness – making it an attractive option for organizations looking for a reliable, scalable, and secure cloud-based MySQL database service.
And INFOLOB, being Globe's Top 5 and APAC's #1 Game Changer Tech Service Delivery Partner in 2022 (graduating from title of Oracle's Most Valuable Partner [MVP] in 2018, 2019, and 2020) has piloted countless OCI MySQL Database Service implementations while exceeding customer expectations. We are 450+ high-performing, Oracle-certified, data-powered business enablers transcending disparate industries and geographies.