Tussling with the management of critical data and applications beyond the 'limits' of your E-Business Suite (EBS) system? The complexity of modern EBS installations, spanning diverse departments and pivotal business processes, often hampers the ability to adapt to evolving needs seamlessly. In response, businesses frequently resort to decentralized data repositories or databases, such as Microsoft Access/Excel as strategic remedies. Unfortunately, these external repositories harbor valuable data and present a host of concerns:
Data Reliability: These auxiliary data repositories, albeit serving as a "non-primary source of truth," can potentially jeopardize data integrity. The proliferation of multiple copies of shared data compounds the risks.
Vulnerability Spike: Solutions involving Excel or analogous data repositories lack the robust authentication protocols found within conventional systems. Unauthorized access can occur via prints or emails, leading to security breaches.
Lack of Confidentiality: Maintaining control over access to sensitive information becomes increasingly challenging when data resides in these external repositories.
Process Ambiguities: Data files existing outside the purview of your ERP remain largely unmapped in formal business processes, creating grey areas that hinder process optimization.
Against this backdrop, EBS extensions emerge as an astute approach to simultaneously bolstering security and fostering adaptability. EBS extensions deliver advanced mechanisms for seamless EBS integration, data governance, process enhancement, and scalability in alignment with your EBS ecosystem. The contemporary iteration of web-based EBS extensions especially offers an elevated User Experience (UX) that elevates operational efficiency.
The Definitive Tool for EBS Extension Development: Oracle APEX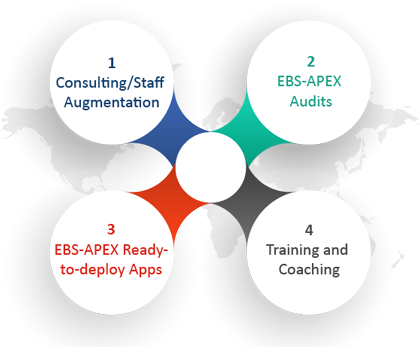 Meet Oracle Application Express (APEX) – an AI-age web-based development tool for constructing EBS extensions. Anchored within your database and seamlessly encompassed by your database license, APEX empowers Rapid Application Development with limitless developer and end-user engagement. Oracle endorses and provides robust support for utilizing APEX to craft EBS extensions.
Distinguished by its low-code technology framework, Oracle APEX expedites the creation of bespoke extensions for data-intensive applications. Developers can leverage this platform to orchestrate comprehensive, enterprise-wide solutions. Plus, the autonomy of APEX from EBS within your database ensures the insulation of APEX from EBS patches and upgrades.
EBS Extension Assistance Offerings
We offer an encompassing suite of services centered around EBS extensions, seamlessly leveraging the prowess of APEX. Our proficient team boasts extensive experience in developing immersive dashboards, interactive reports, tailored data entry interfaces, dynamic data bridges, and more. This is also testified by our relationship with 100+ clients across North America, Asia Pacific, and the Middle East which has a runtime of 14+ years.
Spanning the Spectrum of EBS-APEX Initiatives
Consulting/Staff Augmentation: We harmonize with your organization's intrinsic resources, collaboratively steering projects by imparting expertise, PoC, and knowledge transfer, endowing your team with enduring capabilities.
EBS-APEX Audits: Irrespective of the hosting environment — data center or cloud — we ensure the longevity of your infrastructure and installed applications. Our meticulous audits encompass all facets of APEX deployment vis-à-vis EBS, culminating in actionable recommendations.
EBS-APEX Ready-to-deploy Apps: Our suite of pre-built applications catalyzes APEX development within the EBS context, proficiently addressing specific requisites and bridging customary business process gaps. In addition to efficacy, these applications bear testament to our adherence to EBS development standards.
Training and Coaching: We offer a comprehensive three-day APEX introductory training, meticulously tailored to EBS touchpoints, effectively bridging the chasm between APEX and EBS paradigms. This training serves as an accelerated path to proof of concept development or resolution of EBS-APEX queries.
Our Commitment to EBS Excellence
With an illustrious portfolio spanning diverse industries like finance, manufacturing, retail, and healthcare — INFOLOB Global is second to none in enabling EBS extension development with Oracle APEX. The synergy of technical acumen and domain expertise shepherds our full-spectrum approach encompassing project management, business analysis, technical analysis, database administration, development, and quality assurance. Leveraging streamlined tooling, including single sign-on integration and EBS context enablement in APEX, we expedite development while adhering to the highest standards.
In totality, our EBS extension and APEX assistance encapsulate the due greatness for ensuring your organization's seamless evolution within the EBS ecosystem while harnessing the power of Oracle APEX.