Oracle Cloud Dedicated Region: Cost Reduced in 2022 Release
This release of OCI Dedicated Region is aimed at fostering a greater segment of customers to access the incredible agility, economics, and scale of Oracle's public cloud – in their own data centers. Among the most visible changes, the latest OCI Dedicated Region has shed more than 2/3rd of the space required for its accommodation, coupled with a substantially lower entry price of roughly $1 million/year for a standard customer.
In the initial release back in 2020, OCI Dedicated Region addressed a ton of dilemmas of cloud-driven modernization by merging control, data sovereignty, physical security, latency, etc., with the classic advantages of the public cloud. And now, with a cheaper, faster, and sleeker OCI Dedicated Region – all the prospective users are set to benefit even more. It is because now they can not only have a smaller footprint and expense for OCI Dedicated Region but also continue to run the complete portfolio of OCI services in their own data centers despite the shrink in size and cost.
On top of this, teams at Oracle diligently manage, support, upgrade, and extend the OCI Dedicated Region, just like it is done by customers on their on-premises infrastructure. It also entails financially-backed SLAs for availability, performance, and manageability identical to the public OCI Regions. However, one should also make a note of the fact that OCI Dedicated Region operates separately from Oracle public cloud regions, ready to be delivered on-demand for heightened security and compliance requirements in the cloud.
At the given scale, transferring of enterprise applications from customer-managed on-premises hardware to OCI Dedicated Region can be exceedingly cost-effective while a single-tenant cloud built out of numerous OCI Dedicated Regions is already the most practical method of hosting operations throughout the globe.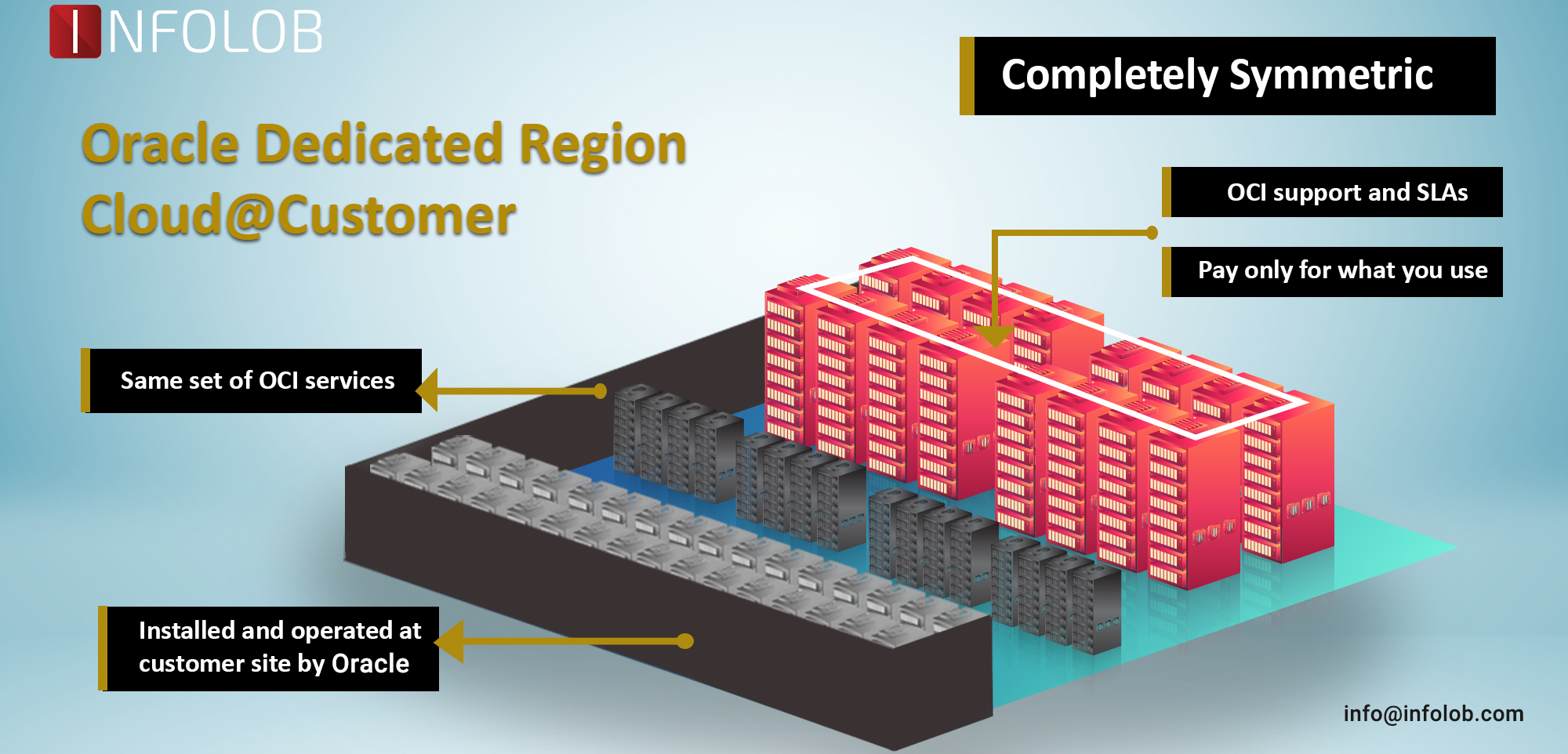 New OCI Dedicated Region feat. Compute Cloud@Customer
OCI Dedicated Region also combines the launch of Oracle Compute Cloud@Customer, which is a rack-scale solution enabling businesses to run applications on OCI-supported compute, storage, and networking within their data centers. It is entirely managed like a service in OCI Region leveraging OCI's cost-efficient usage model for greatly streamlining operations and minimizing expenses.
Compute Cloud@Customer includes a division of services in OCI Dedicated Region, intended for slightly compact environments than the new OCI Dedicated Region. It supplements the database services in Exadata Cloud@Customer, delivering core infrastructure services to customer data centers. Compute Cloud@Customer, together with OCI Dedicated Region, and Exadata Cloud@Customer, offer customers the original Oracle Cloud experience anywhere they wish.
Developers and IT leaders, on the other hand, get to use the exact same APIs and management tools to build a reliable UX regardless of the running location of their services. This makes it extremely effortless for businesses to develop, deploy, fence, and maintain a single group of software across a broad range of distributed cloud environments.
OCI Dedicated Region: The Beginning of Distributed Cloud
All the innovations introduced above are fragments of Oracle's vision for OCI Dedicated Region – the next-gen cloud services deliverable anywhere and anyhow the customers want it. Oracle's Dedicated Region and Cloud@Customer are empowering customers in over 60 countries, worldwide. This is in addition to the 38 Public Cloud Regions distributed across all continents, along with several US National Security regions. Oracle's public OCI Regions also afford low-latency connectivity to Azure at unrivaled low network traffic fees. Besides, each variant of the OCI Regions is compatible with a legion of hybrid cloud and multi-cloud architectures coupled with Oracle's management services.