Infolob's Oracle Cloud at Customer service simplifies Hybrid Cloud adoption while causing no operational disruptions and facilitating revolutionary Oracle Autonomous Database. And then, there is Oracle Dedicated Region [email protected] that brings all public cloud features behind your firewall in your data center to run all IT services as a single-tenancy cloud infrastructure with physical control over infrastructure and data.
Talk to Our Oracle Cloud Experts Today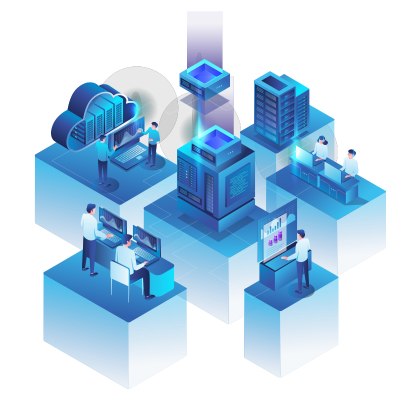 The awesomeness of cloud is amply proven in the past decade.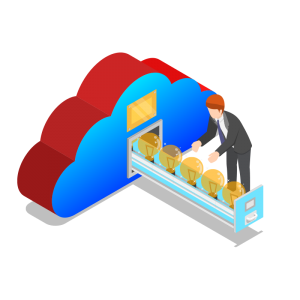 However, public cloud spending is barely 10% of the $5.3 trillion worldwide IT spending in 2022, accordingly to Gartner. Infolob identifies the desire of CIOs and CTOs to extract maximum off their existing on-premises IT infrastructure, the reluctance to share tenancy in a public cloud infrastructure, and transform CAPEX into OPEX in a pay as you go option as the three primary factors that are promoting the adoption of hybrid cloud models.
Hybrid cloud enablement by Infolob helps its customers achieve digital transformation, operation modernization, and greater customer experience while:
Elongating the longevity of existing on-premises hardware and software investments
Lowering latency for mission critical databases, ERP, and mainframes
Gaining real-time command and control with dedicated infrastructure
Achieving complete ownership of load balancers and HW VPN
Oracle Hybrid Cloud Options
For existing Exadata user organizations – Oracle offers following four types of hybrid cloud options to fulfil all kinds of public and private cloud requirements. Moreover, the identicality of these four Oracle hybrid cloud alternatives with your existing on-premises environment increases agility and workforce adoption. These are:

Oracle Exadata Cloud at Customer (stylishly spelled as [email protected]) is an ideal hybrid cloud solution as all the awesomeness of cloud comes in your data center, behind your firewall. Infolob's Exadata practice is proud to have earned the recognition of being the first Partner in the Oracle Partner Network to successfully implement Exadata [email protected] at a client site. Our Cloud Migration Services, Cloud Managed Services, and Cloud Security Services complement our Oracle Hybrid Cloud service to serve as a one-stop-shop for all business transformation needs of enterprises of all types and sizes.
Key Benefits of Oracle Hybrid Cloud Service – Cloud at Customer
Leverage of local cloud to abide by data residency and sovereignty compliance
Single tenancy rather than sharing hardware and service with noisy neighbors
Isolated control plane and private self-service interfaces for portal and API endpoints. No tethering or dependence on the public cloud control plane or Internet exposure of the self-service interfaces
Gain private and local cloud as a service at the price of public cloud with all features of IaaS and PaaS services available in the marketplace.
Exadata Cloud Service
Oracle Autonomous Database
As highlighted by Gartner's Lydia Leong, Oracle Dedicated Region Cloud at Customer (DRCC) is a special tool to copy and paste Oracle Public Cloud advantages into an on-premises Data Center, which means the architecture, services (IaaS, PaaS, SaaS), operations, SLAs, security, and billing model remain exactly the same as before. With Oracle DRCC, customers can run latency-sensitive applications with data locality in a fully managed cloud regions, consolidate legacy applications on high-performance cloud infrastructure that comes with tools to modernize, and run an entire portfolio of IT workloads in a single-tenant, flexible cloud infrastructure. Oracle Dedicated Region [email protected] brings over 50 cloud services that are:
Hosted within customers' data center
Customizable based on workload needs
Completely dedicated and fully featured
Oracle managed maintenance and operations
Software-defined infrastructure
Billed only for the cloud service consumption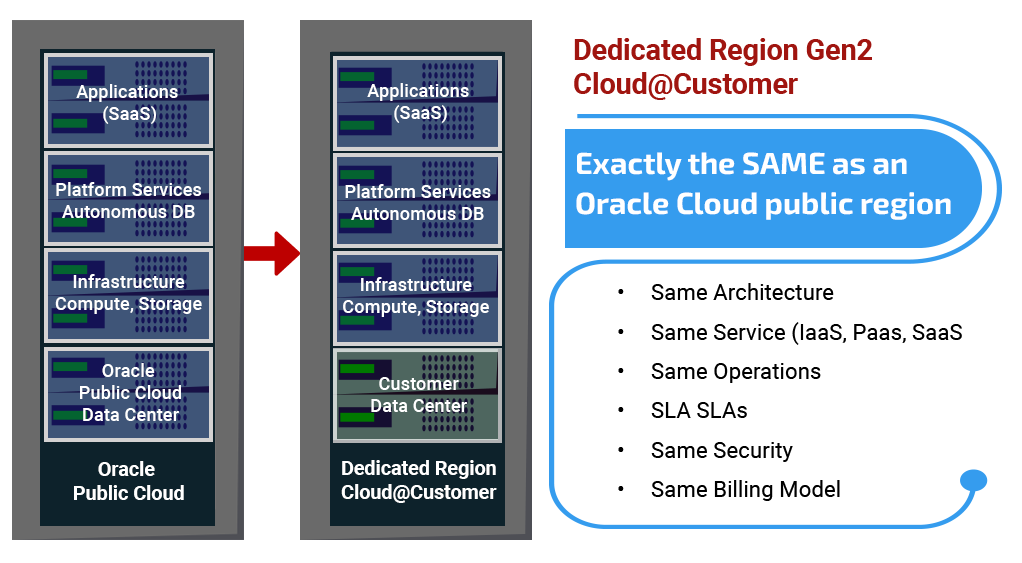 Want to get some Infolob perspective? Check out our blog!