Every day businesses are deploying tons of workloads in the public clouds with exceedingly complicated business objectives. This change has resulted in augmented scale and snafu in their cloud networks. Consequently, a ramp-up in cloud network functionality and design options for connectivity and security controls are also seen to accommodate the diverse business needs. And while these businesses adopt such rich network functionalities, they also happen to come face-to-face with novel challenges of operating/managing the unprecedentedly massive and complex cloud networks. This is why Infolob has identified these confrontations and decided to equip customers with a set of revolutionary network operations tools to fully address the problem.
In practice, Infolob is enabling businesses to use a broad range of metrics, event logging, and flow visibility for monitoring network status and performance – while implementing an interactive network visualizer that depicts the network topology, policy relationship, connectivity status, and more. As a part of this goal, Infolob is helping businesses leverage Network Path Analyzer – the latest member in the family of operations tools aimed at seamless network troubleshooting and configuration validation.
Oracle Cloud Network Path Analyzer is a robust cloud network management component for businesses to effortlessly troubleshoot endpoint reachability obstacles in their hybrid and Oracle Cloud networks. Oracle Cloud Network Path Analyzer consumes policy configuration and routing connectivity information to offer visualization of the network path. With this troubleshooting capability, it also assists businesses to validate their network configuration at the time of the initial deployment, as well as during a live configuration change management.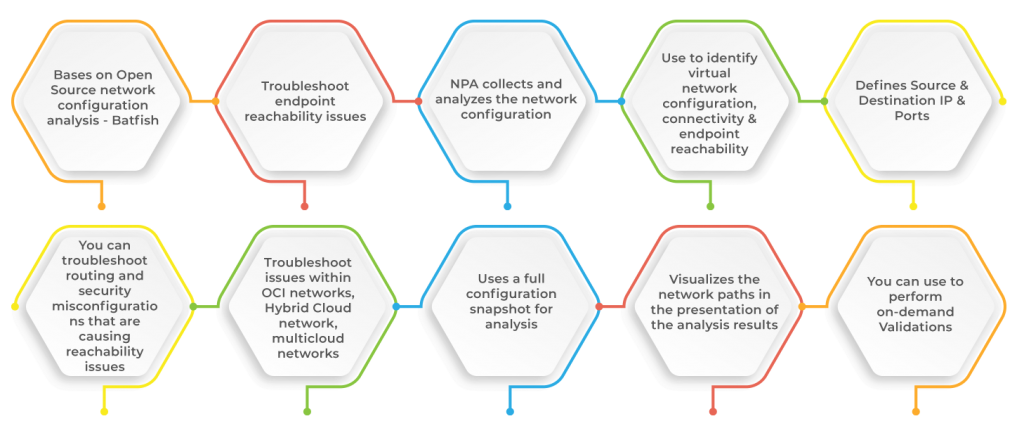 What is Network Path Analyzer?
Let us start with the basics. Oracle Network Path Analyzer is a network reachability evaluation tool relying on real-time network configuration. The primary data input in Network Path Analyzer is network routing and security configuration in a tenancy, together with key network runtime state data like the status of a load balancer backend set, FastConnect virtual circuit, etc. At the core, Network Path Analyzer harnesses Batfish for reachability analysis and to detect configuration anomalies. Note: Batfish is an open-source network configuration analysis solution administered by Intentionet.
Reachability for effective communication across endpoints in a network demands two substantial contributors:
Network connectivity
Relevant security policies
Network connectivity across the endpoints creates potential routes for them to access each other. The relevant security policies throughout the path basically allow communication across the endpoints. And just when the two entities are readily in place – the demanded reachability between the endpoints for the higher-level app functionality is accomplished.
By carefully examining both areas, Network Path Analyzer responds to questions that are indispensable for the cloud network operations team to get an error-free and rather deep knowledge of endpoint reachability in the cloud networks. Without Oracle Network Path Analyzer, the process is often labor- and time-intensive as it subsumes analysis of virtual network topologies, various networks security groups (NSGs), and route tables – hugely susceptible to errors.
Oracle Network Path Analyzer in Action
Network Path Analyzer transforms this complex and troublesome undertaking into a fully automated reasoning process. For its users, the experience equates to putting the parameters into a formula for automated calculation. The parameters combine information about the endpoints, communication protocol, and source/destination ports. The end results are insights into the routing, security policy, and endpoint reachability. Network Path Analyzer simultaneously visualizes the network paths in the analysis results.
As the majority of app communications are bi-directional, Oracle Network Path Analyzer is built-in with bidirectional path analysis competency across a pair of endpoints. Additionally, it is a phenomenal network troubleshooter that avoids the use of traffic along the network paths for solely operating on configuration and runtime state data, transforming into an efficient tool for proactive configuration validation.
OCI Network Path Analyzer
1 – Select Protocol
2-3 – Source IP Address
4 – Post Number
5-6 – Destination IP Address
7 – Destination Port
8 – Bi-Directional/Uni-Directional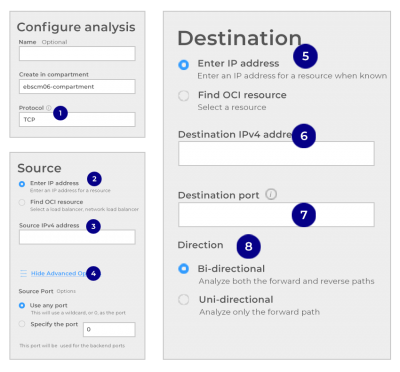 Advantages of Oracle Network Path Analyzer
Equipped with Network Path Analyzer, businesses can actualize the below perks:
Faster-than-ever troubleshooting of reachability problems originating out of misconfigurations – dramatically minimizing the MTTR for related outages
Proactive verification and validation of network routing and security policy configuration for an enterprise's reachability intents prior to initializing application traffic
On-demand validation of the logical network paths matching an enterprise's intent
Network Path Analyzer can be leveraged to examine network paths within Oracle Cloud, hybrid cloud, or multi-cloud networks
Supporting the common network designs with redundant paths, Oracle Network Path Analyzer examines and visualizes as far as eight ECMP network paths across an endpoint pair
Network Path Analyzer is provided to Oracle0-Infolob customers as a complimentary service in all Oracle Cloud Regions