Oracle E-Business Suite (EBS) 12.2.11 for Data-Driven, Cloud-First Ventures
While the world conforms to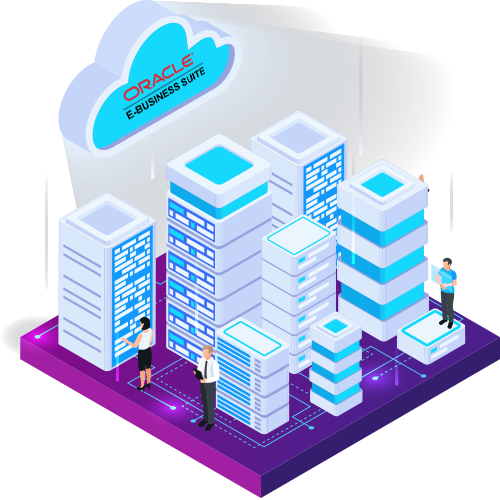 the idea of a data-driven, cloud-first enterprise as the one-and-only method to rapidly unlock newer revenue streams and rally enough resilience to tackle competition, and the likes of Covid-19 – Oracle announces the general availability of E-Business Suite 12.2.11 (EBS) to afford users all the more reasons to continue with the trend at full charge. This is a cumulative update for the Oracle E-Business Suite 12.2.xx series, enabling organizational and market-facing, data-driven decision-making, including financials, supply chain, human capital, project management, customer experience, and more.
Additional readings by Infolob:
Note: The update is only applicable for customers already using the Oracle EBS 12.2.xx series. For users on the earlier versions, please reach out to Engage@Infolob.com for support.
The Oracle E-Business Suite is indeed not a new phenomenon, as it has been transforming businesses for the last three decades. However, the arrival of Oracle EBS 12.2.11 houses some significant enhancements, new functionalities, and innovations in the sphere of operational efficiency, user experience, and more for creating all the buzz everywhere. Particularly, the Enterprise Command Centers—introduced back in 2018 into Oracle EBS—for information discovery coupled with industry-leading exploration and visualization and capabilities. Let us dive right into the specifics.
Oracle E-Business Suite 12.2.11 - The ECC User Experience
Starting with the user experience for being the single-most-important element in democratizing data and consequently enabling a truly data-driven business – the latest update on the Oracle EBS gets rid of the transactional experience. E-Business Suite 12.2.11 replaces it with an off-the-shelf business intelligence with auto-curated KPIs, dashboards, graphs, charts, etc. leading your way to an overhead view of everything that needs your attention for accomplishing the business objectives. To give you an idea, there are at least 30+ command centers and 110+ dashboards. These are allocated across the subsumed products, including SCM, project management, financials, HCM, asset lifecycle, and more.
Oracle E-Business Suite 12.2.11 - New Functionalities, and Investments in Operational Efficiency
– Solution for the federal G-Invoicing application to streamline IGT buy/sell data processing and exchange, further combined with Oracle Contract Lifecycle Management for public offices, Oracle Projects, and Purchasing
– Oracle Services Procurement for full-scale visibility on spending, and supplier performance
– Recurring and milestone-based billing for customers to add and re-sequence billing milestones with supplementary information
– Internal Sales Orders management for sharing requisition data from sanctioned, inventory-sourced requisition lines into the interface tables
– The Warehouse Management Rules Engine for extending a repository for business policies and restrictions—composed and implemented by users from lists of values—for picking and dismissing operations by classification code
– Added APIs and REST services facilitating never-before integration across EBS products, including Inventory, Discrete Manufacturing, Product Hub, Warehouse Management, etc.
– Automation in EBS Cloud Manager for seamlessly provisioning EBS environments on Oracle Cloud, the most convenient lift-and-shift migration, and EBS environment lifecycle management
– Implementation of public APIs and Database standards for EBS to better leverage the latest Oracle Database
– A novel architecture that features System Schema Architecture and optimized harnessing of system privilege, and more
Oracle E-Business Suite 12.2.11 - Application Technology, and Object Library Inclusion
– Ramped-up table data publishing to spreadsheet/PDF: For users to surpass the existing range of data export to spreadsheets and PDF such as transient entry fields, total exported rows, unassociated column metadata view attribute, etc.
– Bypassing BI Beans to more advanced charts: Although users still have the option to go back to BI Beans as their default tool for charts, the new technology offers too many perks to encourage users to ever roll back – comprising scroll, zoom-in/zoom-out capabilities built for data stretched over a large timeline.
– Color-coded infotiles (seeded, key information items): It is done and readily customized via a prepopulated set of colors to form a distinction between individual tiles.
– Minimizing and maximizing infotiles: For users to expand/collapse infotiles while observing a page with the applied list search
– Command Center Pop-ups: For fueling more comprehensive integration of different panes of glass inside the Oracle E-Business Suite 12.2.11.
– More than 1 year of default inactive session retention period: Purge Sign-On Audit Data program now has a retention period of more than 1 year by default as the parameter for discarding rather than a specific date for determination
– CPU level and FND Global File Manager Secure Configuration Check: The Secure Configuration Console can now also verify CPU level and system's compliance with the FND Global File Manager recommendation for performance and authorization.
– Miscellaneous application features addition in Oracle EBS: Renewed List Search API, Classic Query Bean retained search notifications (extended from 12.2.10), activate/deactivate Diagnostic Console button, new Flexfield Bean attribute, Oracle Redwood Design System – easily applicable theme for standardization in the application interface, and many more.
Add-ons for DBAs and SOA Gateway in Oracle EBS 12.2.11
The new E-Business Suite 12.2.11 features certification with Oracle Database Unified Auditing, and schema migration capability for DBAs. Whereas, with the use of Oracle Workflow Business Event System, Oracle EBS allows users to invoke REST services via POST HTTP and GET techniques supported by JSON/XML payloads.