While cloud computing continues undeflected from its path to transforming businesses, INFOLOB identifies what can entail cloud migration/management – shaping the global enterprise panorama in 2023.
This includes the acquaintance and accommodation of the following into a cloud strategy to succeed at the new-founded volatility and the newly endless possibilities of growth.
Multi-cloud – "Internet of cloud"
Sovereign cloud level of compliance
5G and Edge
The industry-tailored cloud
Governance
And with the cloud market expected to expand to $600 billion in 2023 [1], it is important that a business jumps into the bandwagon only with proper gear and guidance. Time to shed some light on the above-mentioned cloud trends in 2023.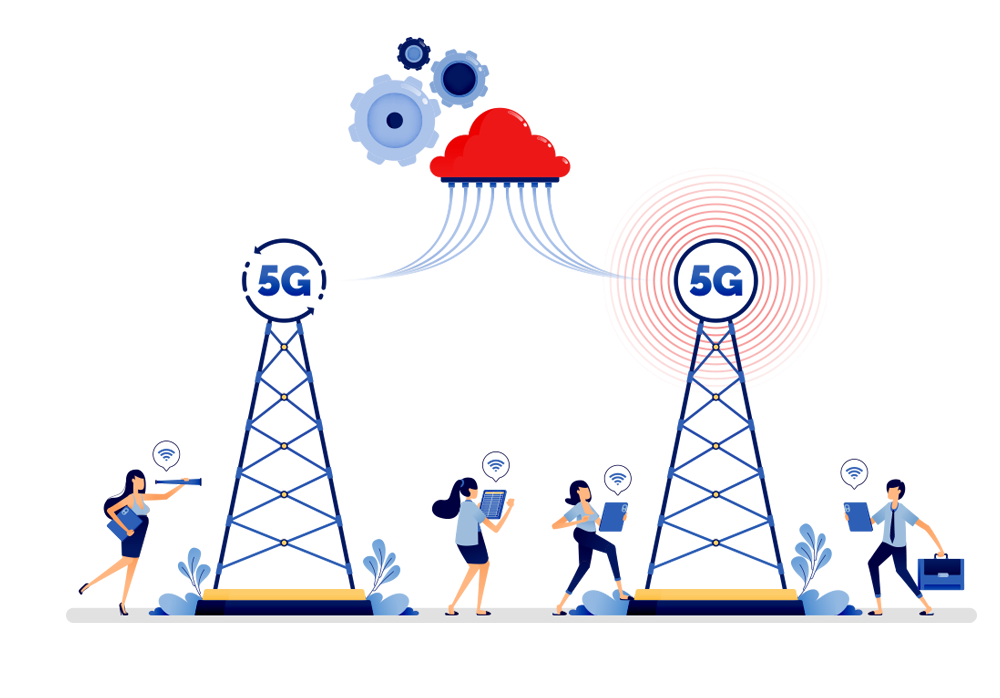 Multi-cloud - 'An Internet of Cloud'
A new breed of cloud that is unprecedentedly distributed yet interconnected, interoperable, and portable.
At the beginning of the Covid-19 pandemic, plenty of prompt cloud expenditure approvals were made in hurry to back remote working along with cost savings. Businesses have started to switch their focus to enhancing their evaluation models for the cloud-generated value, and how this cloud can better support customers or multiply revenue streams. Turns out multicloud is their way to go!
This new outlook of the cloud can work as an essential building block of modern cloud strategy, shepherding growth, agility, and return on investment.
Explore what is multicloud, and how to acquire it.
Compliance 2.0 with Sovereign Cloud
We are in times where newborn data security and privacy regulations prompt businesses to switch to the sovereign cloud – making it absolutely hassle-free to comply with regulations and guardrail data from unduly foreign access.
Oracle's Dedicated Region Cloud@Customer variants address the cause of tightly-bound industries with ever-changing data regulations. Any business can harness the sovereign cloud's security framework to safeguard critical data and systems from unauthorized access and abide by regulations at the global, national, and local levels. Per the United Nations Conference on Trade and Development (UNCTD) report on Digital Economy, businesses opting for the sovereign cloud with hybrid/multicloud strategies will be in a leading position in terms of risk, security, and compliance. Additional perks? Enterprise data center-like low latency, physical security, etc. [2]
The Newest Generation of Wireless Networking (5G), and Distributed Computing (Edge, and Quantum)
Edge is set to substantially catalyze business operations by roping in computation and storage closer than ever to the data sources. Whereas, 5G has already paved the way for the hyperconnected world to unfold.
This translates to businesses enhancing response times and economizing bandwidth while augmenting the quantity of applications used by modern businesses on the frontiers, such as sustainability schemes, and in-store/on-site operations. Besides, more enterprises are now inclined to experiment with quantum computing capabilities to make it to the next phase of technological revolution after AI.
As a repercussion of such drastic advancements in AI and AR with the final dive into the metaverse, cloud computing is forecasted to play a massive role in modern business, as well as in consumer's everyday life.
The Industry-Tailored Cloud
Businesses investing in industry-specialized clouds are expected to see their KPI shoot through the roof for a number of reasons in 2023.
Cloud computing can be exclusively designed for a group of industries to yield business value and not merely be one-size-fits-all back-end IT operations
Modern businesses that invest in all-cloud industry solutions to overcome conventional/unconventional pain points have already recorded dramatic surges in their key performance indicators
Fast-evolving supply chains and resource-efficient sustainability strategies exemplify the use of industry-specific cloud
Customer-facing industries such as retail and hospitality are also witnessing a sustained spike in industry cloud ventures since they are currently the best positioned to use edge
Owing to the impact INFOLOB created in the cloud enablement and management sector – we also won the Global's Top 5 and APAC's #1 Game Changer Tech Service Delivery Partner award.
With cloud adoption rate shifting into 'exponential' gear – a robust cloud governance strategy becomes indispensable in 2023. It involves strategies and guidelines that curb expenses, enhance security, boost efficiency, and fast-track deployment. Without proper governance, companies risk creating a patchwork cloud that is tough to manage, secure, and navigate. This results in reduced visibility, hindering companies from harnessing the full potential of cloud technology.
3 Reasons Why Cloud Governance is Imperative in 2023
Budgetary Control: Companies can better control their cloud costs by knowing what they possess, where it is located, and how often it is utilized. Cloud governance ensures that cloud expenses are accurately calculated, preventing instances of unnecessary spending on running instances or unused SaaS applications.
Clear View: Policies that oversee the implementation and management of new cloud instances or services ensure that visibility remains unobstructed as clouds expand. Without these policies, IT teams may struggle to manage clouds effectively due to siloed environments.
Defense: Establishing clear processes for authentication, access, and data transfer and monitoring is vital for cloud security. Without them, companies risk violating compliance regulations and putting their information at risk."
Novel technologies and collaborations are fostering innovation and will keep precisely relaying the kinds of cloud-led services vital for modern, globalized businesses. CIOs/CTOs proactively engaged in developing 'cloud-first' strategies will surely find their organization in a better position with estimated returns in the year 2023.