Collectively, the entire US health systems invested more than $10 billion on electronic health record (EHR) hardware and software between 2008 and 2013, with an additional $10 billion to $15 billion poured in through to 2016.[1]
And, the pattern is poised to escalate in 2020 and beyond with technology giants such as Apple and Google introducing their own products in the EHR marketplace.[2],[3] The success of Apple Watch and consequent Google's acquisition of FitBit further evidences growing competition in the wearable market, besides representing the zest of these pioneering companies to capture health data of the masses in an increasingly digital world. In this scenario, this article aspires to:
Answer why such mountainous investments on EHR,
Evaluate factors that determine return on investment (ROI),
Explore why Cloud is essential to fruitfully leverage EHR, and
Highlight Infolob Solutions' expertise in deploying cloud based EHR with data science insights on top of robust security and threat detection.
Note: Infolob is delivering cloud, apps, and database solutions to enterprises across the U.S. for the past 13 years. Explore our Cloud Services, Exadata excellence, Cloud ERP services, and Cloud HCM services.
Why is the hospital industry investing so heavily on EHR?
The healthcare industry is among the most agile ones among all, embracing new technologies readily as they offer services that are necessity, not luxury, and a robust EHR system benefits both in terms of additional revenue generation and cost savings. The EHR marketplace is growing profitably because hospital industry players have realized the numerous advantages of employing an EHR system, such as:
Efficiency and reliability of automation: Although most EHR implementations result in reduced productivity for the first year or so owing to the duration of deployment, workforce training requirements, and resources' resistance to change – a successful EHR implementation returns significant percentage of savings on operational costs besides radically optimizing the efficiency of each function. Automating human-dependent processes eliminates errors and increases transparency.
 Interoperability and accountability: A typical hospital with a hundred beds requires an IT infrastructure of anywhere between 300 to 3,000 applications. Some of these application platforms overlap, but most operate within disconnected software spread across defined divisions. This leaves significant opportunities of interoperability if a holistic EHR system is built. Moreover, an EHR system lures investors for enabling swift trackbacks to identify the root cause of any error, be it pertaining to patient enrollment, care provided, billing, insurance, supply chain, and others.
Governmental incentives and mandates: First, the 2009 American Recovery and Reinvestment Act created tangible reasons for the hospital industry to adopt EHR. Then, the 2012 Hospital Re-admissions Reduction Program (HRRP) influenced organizations to enhance the level of care provided as well as track patient progress post discharge.[4] Now, The Centers for Medicare & Medicaid Services (CMS) encourages eligible clinicians, hospitals, and critical access hospitals (CAHs) to adopt and meaningfully use certified EHR technology.[5] In 2019, the Office of the National Coordinator for Health Information Technology (ONC) released a proposed rule to implement EHR improvement provisions to be included in the 21st Century Cures Act (Cures Act).[6]
Reduced resource dependency and optimized supply usage: EHR paves way to dynamic staffing model that yields insights into future growth plans matched with staffing costs by type such as physicians, technicians, nurses, and orderlies. Additionally, EHR improves clinical supply usage including inventory and purchase orders and generates data-based information for the management to understand variabilities across facilities.
Evaluating EHR ROI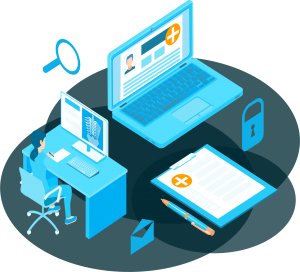 Calculating the total cost of ownership (TCO) of a modern EHR requires complete assessment of costs pertaining to information technology and services over a defined duration of time. EHR TCO and consequent ROI is the calculation of all financial gains and benefits anticipated from a project. There are two types of gains and benefits: quantifiable and non-quantifiable. These two can be bifurcated as follows:
Quantifiable gains of EHR system implementation: increased revenue as a result of eliminating errors in medical coding and billing; incremented physician efficiency owing to the ready availability of all information in one dashboard; optimized supply chain and improved operational efficiency of each resource.
Non-quantifiable gains of EHR system implementation: improved patient management and treatment, and consequently better customer satisfaction; greater job satisfaction of clinicians and support staff via stronger peer coordination; governmental mandate compliance.
Bonus: gain an edge over competitors
Data science, machine learning, and predictive analytics are some of the next generation tools hospital industry players are leveraging to identify opportunities of improvement across all operations at a facility. Some of the examples are: tracking patient progress during the stay as well as after discharge, ensuring supplies and labor availability at each touchpoint, and chronic disease prediction. More on these bonus gains later when we discuss Virtue Group's offerings.
Why Cloud-based EHR system?
A 2017 U.S. National Center for Biotechnology Information (NCBI) research study searched Scopus, Web of Sciences, IEEE, Pub Med, and Google Scholar databases to conclude that cloud computing is a widespread technology across the hospital industry.[7] The study suggests that cloud computing is useful in implementing EHR in a variety of contexts, including aiding managers, analysts, and providers, and recommends to use this technology.
A cloud-based EHR enables storage, sharing, and upgrading of all clinical data and required software in the cloud, which results striking benefits that a typical on-premise data center-based software system fail to match. Following are some of the business benefits of cloud based EHR system:
On demand service – all resources under a domain or cross-functional domains gain access to information round the clock
One-click software upgrades
Broadened network accessible remotely via a standardized device such as personal computer, smartphone, or tablet
Swift scalability to accommodate and respond to unexpected increase in the number of users
Maximize underutilized infrastructure spending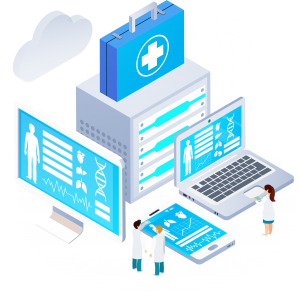 Use case: In September 2019, Mayo Clinic selected Google Cloud as its digital transformation vendor.[8] Mayo Clinic is ranked the number one hospital in the U.S., serving more than 1 million patients across 140 countries. The premier hospital organization will now leverage advanced cloud computing, data analytics, machine learning, and artificial intelligence to redefine health care delivery, bringing together global providers and consumers to make health care better.
Infolob's Cloud-based EHR Data Science Expertise
Infolob believes clinical patient data residing in EHR systems are goldmine waiting to be explored and benefit from data science technologies to analyse patient symptoms and diseases, treatment planning and execution, tracking progression, rehabilitation, and the outcome. Some of the key insight avenues paved by Infolob are:
Predictive analytics – identify chronic conditions such as diabetes, asthma, hypertension, arthritis, and depression.
Cost management – track possibilities of 30-day readmission beforehand and avoid penalties; analyse length of stay
Real-time recommendations – leverage our tools to plan commonly prescribed care treatment and medication based on historical patient data
Emergency department – planning metrics to identify top patient conditions encountered by the department and accordingly, utilize resources and inventory
Infolob's Data Security and Treat Detection Expertise
Between June 2016 and July 2019, 166,349 distinct incidences of data breach complaints were logged with the Federal Bureau of Investigation (FBI), amounting to more than $26.2 billion that were exposed during these breaches.[9] The FBI ranks the lack of awareness regarding proper security measures and threat detection capability among organizations as the primary cause of these breaches.
At Infolob, we have identified malicious or criminal attacks as the cause of most data breaches, accounting for 48% of the cases we have encountered, followed by 27% due to human negligence and 25% involving system glitches pertaining to both IT and business process failure. We identify following 8 factors that are keeping organizations vulnerable against the hackers:
Large volume and disparate data and transactions
Lack of formidable data governance and MDM program
Elevated access for system accounts
Multifarious user base with improper role definitions
System misconfiguration
Lack of low-level data auditing
Data residing in remote data stores via ETL/integrations
Lack of data obfuscation in development environments
The Infolob Solutions:
Predictive Security Analytics using database and application log data –

Collect low-level transaction audit logs using Oracle AVDF or Fine-gained auditing feature
Inject any logs for analytics. Example: SYSLOG, Apache Access logs, WebLogic logs, and Firewall/Network logs.
Ingest logs into Google Cloud Platform for predictive analysis via numerous tools
Customize dashboards and report generation
Self-service metrics and enhancements
Long-term archival and storage of audit data
Real-time alerts on anomalies – IPs, user access, time of operations, and sensitive information such as payment, employee data, and finance
Machine learning based feedback loop. We are continually enhancing our model everyday
Threats organized by low, medium, and high risk. Gain threat scores and extensive visualization for easy analysis.
 Conclusion
Mountainous investments are pouring in on Electronic Health Record (EHR) systems, and major technology players such as Apple and Google are making forays in the EHR marketplace with exclusive offerings. Benefits of automation, government mandates and incentives, and operational optimization are some of the key reasons luring hospital industry players to invest on a robust EHR system. While the players must evaluate EHR implementation ROI through numerous factors, it is essential that cloud-based EHR system is strongly contemplated, particularly in a futuristic data-driven world.
Infolob Solutions offers all the tools and services to construct a robust cloud based EHR system that yields useful analytical insights with data science technologies and protects from all security threats.
[1] Healthcare.mckinsey.com/sites/default/files/Electronic%20health%20records.pdf
[2] Apple.com/healthcare/
[3] Cloud.google.com/healthcare/
[4] Cms.gov/Medicare/Quality-Initiatives-Patient-Assessment-Instruments/Value-Based-Programs/HRRP/Hospital-Readmission-Reduction-Program
[5] Healthit.gov/topic/meaningful-use-and-macra/promoting-interoperability
[6] Govinfo.gov/content/pkg/FR-2019-03-04/pdf/2019-02224.pdf
[7] Ncbi.nlm.nih.gov/pmc/articles/PMC5869277/
[8] Cloud.google.com/blog/topics/customers/how-google-and-mayo-clinic-will-transform-the-future-of-healthcare
[9] Ic3.gov/media/2019/190910.aspx