Oracle Cloud: The Game Changer in Hyperscale Cloud Services
Most cloud debates hover around the fact as to why a cloud migration strategy is imperative to addressing your enterprise's specific needs. However, in the same breath, they recommend what cloud deployment model is ideal for you. Let us not make that mistake because the more important questions are – which cloud service provider to choose once you have the plan ready? Is it the Oracle Cloud Infrastructure (OCI), Azure, AWS, or some other provider? Also, are not all cloud service providers the same?
These questions are indeed primary because one wrong choice can render any migration and deployment plan ineffective, translating into huge financial losses and temporary derailment of business-critical workloads.
Hence, let us find all the answers you need for a successful business transformation while leaving which cloud deployment model to choose entirely up to you.
Related pages from Infolob: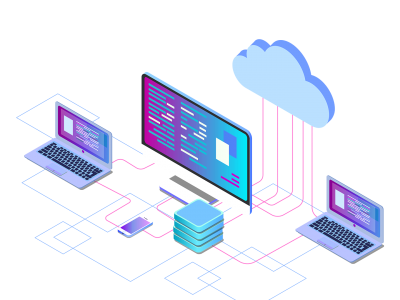 Oracle Cloud Infrastructure Vs. AWS, Azure, and Google
Competing head-to-head with all the prominent players in technology can be at times a tough spot for any database and cloud service company. Yet, Oracle admirably defeats each one of them on the cost, performance, and value scale. To put a few highlights in a list:
Oracle Cloud Infrastructure is more affordable than most hyperscale cloud service providers. E.g., Against the AWS, OCI offers 1/4th the price for outbound bandwidth, three-times better price-performance on computes, 20-times the IOPS at half price, 44% lower costs for HPCs, and 74% less charges for connectivity.
Unlike AWS and others, the cost structures and SLAs in OCI are universally applied to Oracle's public cloud deployed across all regions, and in the Dedicated Region Cloud@Customer (a dedicated public cloud deployed behind your enterprise firewall).
Oracle offers enterprise workloads one of the highest scalability options, with 1600 database server cores, 2.5 PB of uncompressed database size, and 96 TB of persistent memory.
Oracle is ambitiously investing in cloud regions worldwide, and as a result, has outnumbered Azure in Brazil.
World's best databases (Oracle databases, Oracle Autonomous Transaction Processing [ATP], and Oracle Data Warehouse [ADW]) run at highest performance only on Exadata in Oracle cloud. Affording a whopping 12 million read and 5.6 million write IOPS, Oracle Cloud Infrastructure is simply unmatchable when it comes to running Oracle workloads.
Oracle Cloud vs Google Cloud: With support for VMware with full administrative control, real application clusters, robust security via Security Zones feature, role-based access control to targeted resources, DDoS protection for minimizing application layer attacks, and more, are only available on Oracle.
The list is practically endless, however, let us not judge only on what the numbers say.
To measure the value Oracle Cloud Infrastructure brings to enterprises' doorsteps, one must delve deeper into Oracle's approach to business modernization, interoperability, innovation, availability, security, and customer satisfaction.
Oracle Cloud Infrastructure: Interoperability and Customer Obsession
Having several strategic partnerships with Microsoft, VMware, ServiceNow, Amazon DSP, along with open standards implementation such as Kafka, Kubernetes and more – Oracle cloud stands splendidly compatible with the multi-cloud deployment trends, and therefore is more aligned with customers' changing needs.  
In 2019, Oracle joined hands with Microsoft to enable enterprises flexibly deploy mission-critical workloads spanning across Oracle cloud and Azure, unlocking a series of new advantages via direct interconnect and not just interoperability. A unified identity management and support agreement on top of it demonstrates the maturity and customer obsession on Oracle's part to let their customers have what they think is suitable for their unique business requirements, even if it meant collaboration with a competitor.
Besides, Oracle understands that many businesses today still run on very complex, legacy applications/workloads, and modernizing them can be challenging. Hence, they extend those customers with bare-metal servers to undertake a lift and shift operation most seamlessly. If not, Oracle's platinum sales and support partner—Infolob—can always help their customers rebuild from the ground up.
Another great example of Oracle's radical approach to customer satisfaction is the free of charge offboarding option.
Oracle Cloud Infrastructure: Availability and Innovation
Oracle is recognized as a technology titan majorly because of the high performance and availability in their cloud services, along with the continuous improvements they push every quarter. The purpose-built, Oracle Cloud Infrastructure caters to the modern-day, business-critical workloads with 99.99% SLA-ed availability to start with.
This is made possible by not only the best-of-breed hardware Oracle uses in Oracle Cloud Infrastructure. It is also the innovations—such as Oracle Sharding, Real Application Clusters, Availability and Fault domains, asynchronous volume replication, greater support for atomicity, consistency, isolation, and durability (ACID), autonomous database patching, provisioning, and repair capabilities, and more—that play the key role in contributing to Oracle's undisputed reign over the database management systems.
For large enterprises, Oracle also offers the revolutionary Dedicated Region Cloud@Customer, which is basically the option to deploy the original, 2nd generation Oracle public cloud on-premises, entirely under the same pay-as-you-go pricing model.
Not to mention the state-of-the-art disaster recovery capabilities OCI offers, that has the fail-safe recipe for not only securing data in the Oracle cloud, but also failover(ing) the damages caused at the application and network tiers.
Oracle Cloud Infrastructure: Security and Reliability
Oracle Cloud Infrastructure is the same enterprise-grade hardware that is leveraged by the United States Department of Defense (DoD), and has the 'High' FedRAMP accreditations from the Joint Authorization Board (JAB) and the Defense Information Systems Agency (DISA) – Impact Level 5 (IL5). It is only evident that customers on the Oracle cloud get the leading-edge security for their data, applications, network, and systems.
With the best-in-industry defense against SQL injections, data breaches, phishing, ransomwares and more—also significantly protected via the Oracle Cloud Guard and Oracle Data Safe, and not the secured design of the systems alone—reliability comes most naturally to Oracle Cloud Infrastructure.
One of the chief differentiators of cloud services is also the degree of support offered to customers in their journey to the cloud, and at a speed suitable for maximizing their investment. With the support of Infolob's capable team of cloud and database experts, together with the Oracle's in-house teams, Oracle Cloud Infrastructure is acing this requirement also – to become the true game changer among the hyperscale cloud service providers.