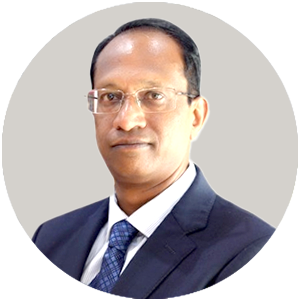 Senior Vice President, Revenue and Growth Strategy
With more than 30 years  of experience, Pankaj manifests a phenomenal track record of managing enterprise business products and solutions across  SAP, Oracle, and Ramco Systems. He is a passionate and self-driven and  engaged in leveraging cutting-edge technology to deliver value to  customers with innovative solutions creating significant  high-stakeholder impact.
Throughout his career, Pankaj has been involved in some of the most prestigious high-impact business transformation projects. In addition to his technical acumen, he has established strong relationships with the owners, promoters, and CEOs of large multinational corporations and Indian organizations during the engagement cycles.  Pankaj is well-networked across the big consulting firms, as well as the system integrator, and partner community.
Pankaj has a strategic view of growth and possesses proven execution skills, complemented by his long-term view of people and business. His profound domain knowledge encompasses business verticals like Automotive, Oil and Gas, IT/BPO, CPG, and Govt & PSUs – with him as an integral part of all project implementations and deliveries to guarantee customer success.
Having nurtured, built, and managed massive teams while successfully delivering high-value, complex business deals – Pankaj's assuming of the position of Senior Vice President – Revenue and Growth Strategy at INFOLOB turns out to be a major leap for the company in channelizing growth prospects into growth milestones.